Source: Keiser
(TORONTO, Ontario)– Keiser was honored with the prestigious Steve Block Vendor of the Year Award on Aug. 18 in Toronto at the 2017 canfitpro world fitness expo, Canada's largest annual event serving fitness professionals.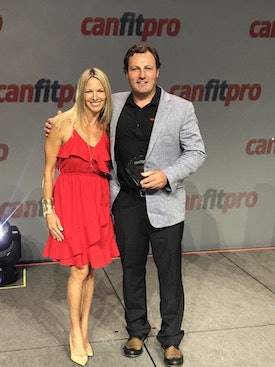 Established in memory of the late Steve Block, president and one of the founders of SPRI® Products, the Steve Block Vendor of the Year Award is given out annually by canfitpro during the Opening Ceremonies of the five-day expo, which attracts more than 200 presenters and 16,000 fitness professionals, business owners and fitness consumers.
In Steve's name, Keiser was recognized for its delivery of exceptional fitness education and commitment to exhibiting at world fitness expo. On hand in Toronto to accept the award were Keiser's Global Director of Education Krista Popowych and Canadian Sales Manager Mark Kocaba.
"It's exciting to see Keiser recognized on an international stage for the company's incredible work with strength and cardio equipment, and our education," said Popowych, who led Keiser's Indoor Group Cycling training and education sessions during world fitness expo. "What an honor to be part of the Keiser family. Keiser truly pushes boundaries and changes how people learn and train. So inspiring!"
Added Kocaba, "I am honored and thrilled to receive the award on behalf of the Keiser team. Thank you [Keiser founders] Dennis and Randy [Keiser] for all you do."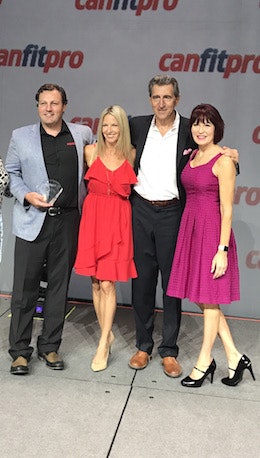 About Keiser
Incorporated in 1978 in Fresno, CA, by President & CEO Dennis Keiser, Keiser has been changing the way people of diverse ages and abilities exercise for four decades. The company was the first to introduce air-powered variable-resistance machines to strength training and magnetic-resistance technology to cardio training. Today, more than 80 percent of the world's top professional sports franchises train on Keiser machines, including every Major League Baseball team, the soccer champions of nine countries, multiple NFL, NBA and NHL champions, and countless Olympians, in addition to NASA, Navy SEALS, leading medical experts and rehab specialists as well as gyms, health clubs and fitness studios around the world. For more information, visit keiser.com.
About canfitpro
canfitpro is the largest provider of education in the Canadian fitness industry. Founded in 1993, canfitpro delivers accessible, quality education, certifications, conferences, trade shows, and membership services. canfitpro's more than 100,000 members include some of the world's finest fitness professionals, health club operators, industry suppliers, and fitness consumers. For more information, visit canfitpro.com.