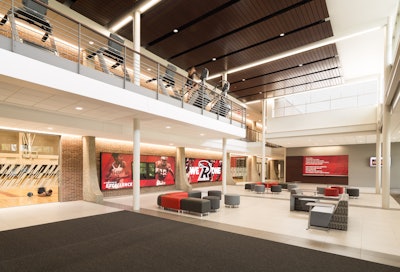 Source: Kahler Slater
Facility Underwent $22 million Expansion and Renovation
RIPON, Wis. – Ripon College in Ripon, Wisconsin will celebrate the grand opening of the Willmore Center – its newly expanded and renovated athletics, health and wellness facility – on Oct. 7. The facility received $22 million in upgrades, including a new field house and an additional 100,000 square feet of new or renovated space.
Festivities will include an Open Gym from 8 a.m. until 10 a.m. and a ribbon-cutting ceremony at 10:30 a.m.
The Willmore Center serves as the main health and wellness center on campus, houses the college's athletic and exercise science departments, and is the home of several of the College's athletic teams, including the Red Hawks basketball, volleyball, swimming, and indoor track and field programs. It has been rechristened the Willmore Center in honor of Ripon College alumna and Honorary Life Trustee Dena G. Willmore.
"The Willmore Center will be a new hub of campus life, an open and bright space that is alive with activity every day, not just on game days," said Adam Bastjan, AIA, LEED AP and associate principal with architecture and design firm Kahler Slater. "It will not only be a great place to work out or watch a game, but the new 'place to be' on campus to study, socialize and be well."
"The size and quality of the facility and the amenities it offers rival those typically only found at much larger schools," Bastjan added.
The 64,200-square-foot field house includes four multi-purpose performance courts with netting for basketball, volleyball and tennis, as well as a 200-meter NCAA-regulation indoor track and areas for jump and field events. The Fitness Center was more than doubled in size and includes two floors of cardiovascular and weight-training equipment and three fitness studios, two of which are equipped with WELLBEATS digital exercise programming. The Agnesian Healthcare Athletic Training Center supports the training and physical therapy of the college's student athletes.
Other enhancements include new classrooms; updated locker rooms; modernized offices for coaching and intramural staff, and a club space for athletic program boosters overlooking the renovated Doc Weiske '50 Memorial Gymnasium, home of Red Hawks basketball and volleyball.
Equally important, Bastjan said, are the distributed social areas, adjacent to many of the high-activity spaces, that will encourage people to simply "hang out" at the facility. "The Willmore Center has essentially become a second student union, providing students, staff and the community options for social gathering on campus," he said.
Much of the original 1967 building's façade was retained, with its red brick walls and exposed concrete columns remaining visible from the new building's interior. They serve dual purposes – providing rich texture and rhythm, and celebrating the history of the original building and of Ripon College athletics and recreation.
In direct contrast to the original building, natural light floods in through the expansive windows throughout the building and through translucent wall panels in the field house. The lounge area immediately inside the entry is designed for socializing, studying or enjoying fresh, healthy food purchased at the self-service Micro Market. It also serves as a pre- and post-function space for the Doc Weiske '50 Memorial Gymnasium on game days.
The gymnasium is front-and-center to the lounge, allowing fans to instantly feel the game-time excitement upon entering the facility. The strength center, the Hopp-Gonring Cardio Balcony and the Kohler Swimming Pool also are open to view from the lounge, giving visitors a glimpse of the vibrant amenities offered.
Kahler Slater (Milwaukee headquarters) provided planning, architecture and interior design services and assisted the college with environmental branding. The Boldt Company of Appleton, Wisconsin was the general contractor. Other key project partners included J. F. Ahern Co. of Fond du Lac, Wisconsin (mechanical, plumbing and fire protection engineering), Faith Technologies of Pewaukee, Wisconsin (electrical engineering and data and information technology consulting) and GRAEF of Milwaukee (civil and structural engineering).
About Kahler Slater
Founded in 1908, Milwaukee-based Kahler Slater began as a regional provider of design services and has grown to become a global, award-winning firm. Today, the firm partners with clients around the world to enrich life and achieve powerful results for their clients through architecture, interior design and environmental branding. The firm works globally from offices in Milwaukee (headquarters); Madison, Wisconsin; Richmond, Virginia; and Singapore. Kahler Slater is a Certified Great Company by the Great Place to Work Institute. Follow Kahler Slater at kahlerslater.com, on Facebook, and on Twitter (@KahlerSlater).