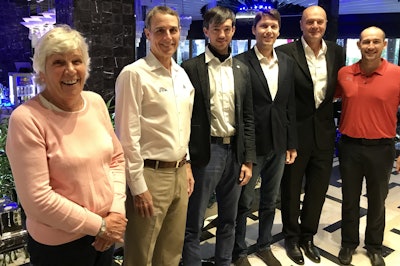 Source: PTR
Hilton Head Island, SC — Professional Tennis Registry (PTR) is pleased to announce a groundbreaking partnership with the Hungarian Tennis Association (HTA). As part of a multi-year agreement, PTR will be an Official Continuing Education partner of HTA. PTR and HTA will collaborate on an annual Symposium to be held in Budapest.
"PTR is excited to be working with one of the top tennis associations in the world. Hungary has a strong tennis tradition, an excellent association staff, and a talented group of coaches," said Dan Santorum, CEO of PTR. "We are confident that our coach education and our collaboration will help contribute to the growth and development of tennis in Hungary for many years to come."
"PTR provides world class and accredited tennis education that will be very beneficial to tennis coaches in Hungary," said Attila Richter, CEO of the Hungarian Tennis Association. "We are very pleased that PTR, among other internationally recognized organizations, will be providing equivalency for the Hungarian coaches who have successfully completed coaching competencies. We believe this partnership will be valuable to our coaches and benefit the game of tennis in Hungary."
About PTR
PTR is the largest global organization of tennis coaching professionals with more than 16,000 members in 125 countries. PTR is dedicated to educating, certifying and servicing tennis teachers and coaches around the world in order to grow the game.