Source: Escape Fitness
Engaging community to be active by eliminating barriers to fitness is ultimate goal
Cincinnati, OH, November 14, 2017—Residents of Omaha, NE are gaining a more than triple its original size, state-of-the-art, exceptional fitness facility with the Kroc Community Center's Health & Fitness space expansion that includes a wide range of Escape Fitness equipment and MOVE IT programming.
The Omaha Kroc Center first opened in November 2009 with approximately 6,754 sq. ft. of designated fitness space. With the completion of its three-year remodeling and expansion project, it now includes approximately 22,000 sq. ft. on two different levels designated entirely for fitness in a facility that is now over 144,000 sq. ft.
Its newly expanded training space offers more than 55 cardiovascular equipment options; a cycling area; an aquatics area; an indoor three-lane track surrounded by corner areas dedicated to abdominal work, stretching and myofascial roller release; a large group exercise studio; and an area equipped to accommodate individuals in wheel chairs or who are post-physical therapy or cardiac rehab.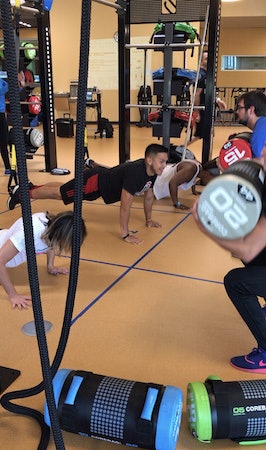 The heart of the abundantly well-equipped training area is the Escape Octagon HTS Functional Frame. An adult playground, it gives members of all shapes, sizes and ages the ability to build, maintain and keep function necessary for daily activity through cardiovascular endurance and strength building.
And, the center has added programming from Yoga and Tai Chi to TRX, Zumba® and bootcamps, the Kroc Center offers a comprehensive schedule of popular fitness classes for everyone from kids through seniors and recently launched Escape's MOVE IT to expand its Group X program.
With MOVE IT, members of all ability levels train together on a full range of functional equipment through a series of zone escalations, increasing intensity as they go. With Adjustment Hurdles, CMTs, GRIPRs, Ridge Rollers, Sandbags, Speed Ladders, Corebags, Fitness Bulgarian Bags, Multi Grip Med Balls, Rubber Kettlebells and Slamballs, the harder users train, the bigger the calorie burn.
"Exercise can be daunting. We are eliminating the barriers. Whether it's weight loss, disease prevention, or increasing activity for you or your children, we are here to help. The hardest part of fitness is walking through the doors. Once you're in, we make it fun. Shoot hoops, whip down the water slide, or play on a giant adult playground called the Escape Octagon. There's something for everyone in your family," said Sandy Andersen, Health & Fitness Manager, The Salvation Army Ray & Joan Kroc Corps Community Center.

"This is an enormously impressive facility all around and the fitness center is outstanding. The Kroc Center accomplished something very progressive in its industry in bringing a small boutique feel to its fitness facility. We are excited for the community to experience all of the amenities normally only available at exclusive facilities with pricey memberships," said Matthew Januszek, co-founder, Escape Fitness.
About the Salvation Army Ray & Joan Kroc Corps Community Center, Health & Fitness Department: The 122,000 square-foot Omaha Kroc Center redefines what a community center is all about. This unprecedented place of gathering and enrichment, houses an array of education, sports, faith, arts and supportive programs never before assembled in the Omaha metro. The programs, as well as the building itself, have been designed to stimulate the mind, body and spirit, to provide hope, and to transform the life of each and every member of the community. The Kroc Center is comprised of four major components: a center of worship, performance and special events venue, an aquatics center, fitness and recreation center, and an arts and education center. Development of The Kroc Center was made possible by a $60 million combined capital and endowment grant from a bequest to The Salvation Army by the late Mrs. Joan Kroc, widow of McDonald's founder Ray Kroc. As a condition to the significant Kroc grant, the community also raised $15 million locally, representing a total community investment of nearly $75 million. It is located at 2825 Y Street in Omaha. For information:www.omahakroc.org
About Escape Fitness: Founded in 1998, Escape Fitness has built a reputation for product innovation, quality and design while growing and competing through great partnerships in challenging markets worldwide. We have helped improve the bottom lines of over 1,000 fitness clubs and key distributors in 80 countries. Committed to functional training since our inception, we work with clubs that invest in functional training spaces that will deliver the best possible exercise experiences; and we encourage fitness professionals and their clients to 'Escape Their Limits'. A mentality that is the foundation of our every offering. We are pleased to work with industry leading brands worldwide, including Equinox, Fitness First, Virgin Active, UFC Gyms, Crunch, Nuffield Health, David Lloyd, 1Rebel, 24 Hour Fitness, Marriott, Life Time Fitness, Jatomi and many more. For information: http://www.escapefitness.com/us