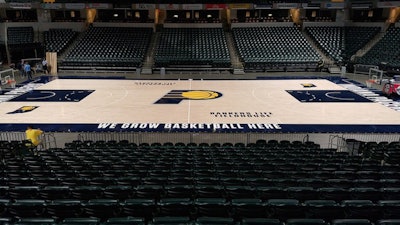 Source: Robbins Sports Surfaces
Cincinnati, OH – December 4, 2017 – Fresher, bolder and more striking – that's the Indiana Pacers' new look at Bankers Life Fieldhouse. For the start of the franchise's 51st basketball season, the Pacers wanted an updated image which paid homage to Indiana's basketball roots, and they nailed it – with the help of Robbins Sports Surfaces.
The state-of-the-art All-Star™ Plus portable flooring system, manufactured at Robbins' Ishpeming, MI plant, finished and installed by Robbins, features a rebranded design for the Pacers including a larger center court logo and a new secondary logo – the Pacers basketball inside a graphic of the state of Indiana. The sidelines, now a commanding Pacers blue, are emblazoned with a sunburst pattern and most noticeably includes the phrase, "WE GROW BASKETBALL HERE."

The project, which took just a few short months from start to completion on Sept. 21, is the latest in a long line of installations for the Pacers, who are long-time Robbins' customers. According to Portables Sales Manager Greg Pierce, the alliance predates the current facility, extending back to the Market Square Arena days. "I've been here 39 years and as far as I know it goes back at least 39 years," Pierce recalls. "We've had a wonderful relationship with the Pacers over the years."

Pierce and his colleagues assisted the Pacers with samples, pricing and held numerous meetings to achieve the very best product for the team. For Pierce, if that meant taking a middle-of-the-night phone call, no problem. Around the clock dedication is how Robbins does business.

Every Robbins' NBA team plays on the top-of-the-line portable model, the All-Star™ Plus, which is head-and-shoulders above the rest in aesthetics, portability and comfort. "If you have athletes on there that you have a lot invested in, you definitely want to go with the All-Star™ Plus," Pierce recommends. "These players, they're all worth millions and millions of dollars."

Comfort is key, so a well-engineered subfloor with mechanical features to provide the ultimate protection for the athlete is critical. The All-Star™ Plus features a three-layer padded system on sleepers with a little more than one pad per square foot on each panel for extra resiliency. "It's there for the comfort of the players so the panels flex as they're playing on it," Pierce explains. "They get that resiliency so it's not like coming down on concrete, so you don't get all that abuse to their ankles and knees and hips and back."

Additionally, the proprietary ZIP® design and RapidLatch™ locking system allows for easy portability. With an experienced team of a dozen people, the floor can be unlatched and easily stored for event changeovers in less than a couple hours. For major arenas like Bankers Life Fieldhouse, which has various events including Pacers basketball, sports tournaments, performers like Katy Perry and family favorites such as Disney on Ice, that's important.

Aesthetically, the system is superior because simply tightening the latch in the RapidLatch™ system keeps the seams and panels tight during the natural expansion and contraction of the premium maple flooring due to changing climate conditions. Plus, Robbins floor expansion joints are built into the panel throughout resulting in smaller gaps, rather than having larger gaps every few boards.

"You basically have seams in the floor that you can't really see from a distance," Pierce says. "If you look at the Pacers floor, if you've ever seen it on TV, unless you're really looking very closely you can't hardly tell that there are panels. It looks like one solid floor."
The new floor is a win-win, garnering exceedingly positive reviews from players and fans alike, taking Pacers basketball to the next level.

About Robbins Sports Surfaces

Robbins Sports Surfaces, a division of Robbins, Inc., is a privately held, 4th generation family-owned flooring company based in Cincinnati, OH with sales offices across the U.S. and manufacturing plants in Michigan and Wisconsin.

The NBA champion Cleveland Cavaliers play on a Robbins Sports Surfaces "All Star" brand floor at their home court, Quicken Loans Arena, and practice on more than 18,000 sq. ft. of the company's "Bio-Channel Classic" flooring, one of the top floor choices among NBA franchises. The Cavs have played home games on Robbins floors since 1974.

More NBA teams compete and train on Robbins flooring than all other competitors combined, with 90% of NBA teams owning the company's competition and/or training facility floors. Past NCAA men's basketball champions Connecticut, Duke, Kentucky, Indiana and North Carolina play their home games on a Robbins floor.

Robbins Inc. has registered 25 patents over the years, with additional patents pending, and is the only U.S. flooring manufacturer with a full-time research and product development staff. Robbins' unique capability and understanding of the biomechanical interaction between the athlete or performer and floor have recently led to new designs that reduce vibration and increase uniformity, both of which improve performance, comfort and safety.

In addition to Robbins Sports Surfaces, Robbins, Inc. is also the owner of Stoehr Flooring, a high-end residential flooring business, and majority owner of Egis Floorlife, an innovative after-market service business. Robbins also has a theater and dance floor division known as Robbins Performing Arts, which is dedicated to the development of performing arts floor systems that enhance the safety and comfort of performers.

For more information about each of Robbins divisions, please visit http://www.robbinsfloor.com/, http://robbinsdancefloors.com/,http://www.stoehrflooring.com/, and http://egisfloorlife.com/.