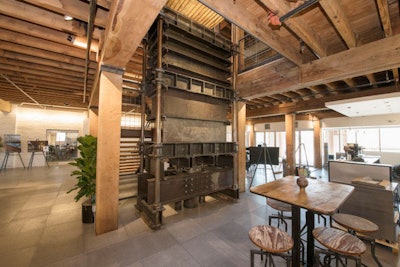 Source: Ohlson Lavoie Collaborative (OLC)
DENVER, December 5, 2017. OLC (Ohlson Lavoie Collaborative), an international architecture, interior design and aquatics design firm, is moving its Denver headquarters to the newly renovated historic STEAM on the Platte (STEAM) development at 1401 Zuni Street.
Named for the "still-cooking" steam plant to the south that evokes memories of the property's heavy industrial past, the STEAM is a 3.2 acre, mixed-use project conveniently located downtown in Denver's Sun Valley neighborhood along the Platte River. The location boasts a light rail stop, bike path, sports arena access and a peaceful riverside setting.
OLC's space is located in the first phase of the project, a 65,000 square foot brick and timber warehouse which was turned into a workspace for tech companies and creative businesses. STEAM will soon grow to include additional office space and residential buildings.
OLC is thrilled to be a part of the energy and life that is being put back into the Sun Valley neighborhood. The technological advancement of the new location will complement OLC's advanced 3D modeling and virtual reality capabilities. The collaborative work environment and co-location of creative firms enhances OLC's current working model and will allow the firm to continue to grow.
Beginning December 1, OLC's talented architects, designers and aquatics professionals will occupy Suite 102. Bob McDonald, Senior Principal at OLC, has been with the firm since 1996. He's extremely excited about the firm's decision to move to STEAM and to make a positive change within this small urban community.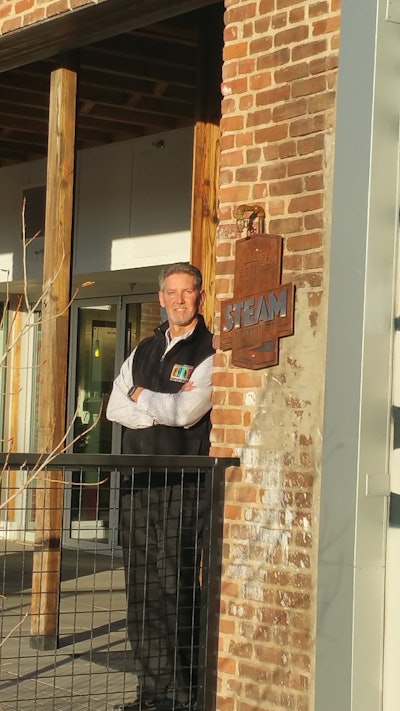 "OLC may be an international architectural firm, but we also do work locally and have local ties. Myself, I've really been looking forward to being a part of the revitalization of the Sun Valley Neighborhood. With its proximity to downtown, access to mass transit, and plans in place for sustainable mixed-use development, it will be a convenient, healthy and vibrant location for our business for many years to come."
OLC has designed high-profile fitness, recreation and wellness projects worldwide and maintains additional locations in Orlando, Tokyo and Cairo. Locally, OLC is currently working on the new Estes Valley Community Center in Estes Park; Cordillera Pool Renovations in Eagle Valley; and most recently completed the Colorado Golf Club Pool and Bath House in Parker. Nationally, current OLC projects include the Lake Nona Wellness Center in Lake Nona, FL; Newtown Athletic Club in Newtown, PA; and Palm Beach Gardens Tennis Center in Palm Beach Gardens, FL.
The development team for STEAM included Urban Ventures, LLC of Denver and White Construction Group of Castle Rock, CO. They are putting life back into century-old architecture to help bring business to Denver's Lower Downtown and River North neighborhoods. Their success shows by housing its first tenants at the STEAM: Lyft, NIMBLE, Bold Beans Coffee Shop, and now OLC.
ABOUT OLC
OLC (Ohlson Lavoie Collaborative) is an international architectural firm, founded in 1961 and headquartered in Denver with offices in Orlando, Tokyo and Cairo. We are committed, enthusiastic and driven to deliver stellar architecture, interior and aquatic design. For the past 35 years, we have focused on athletic, fitness and wellness facilities, including athletic/sports clubs, commercial fitness centers, medically-based wellness centers, recreation centers, spas and a broad range of aquatic projects. OLC has designed projects in 47 states and 11 countries. For more information, visit www.olcdesigns.com or call 303-294-9244