Source: Perkins+Will
Lindsey Peckinpaugh brings national design and client service expertise to expanding Chicago practice
CHICAGO – December 14, 2017 – The Chicago office of global architecture and design firm Perkins+Will announces the appointment of Lindsey Peckinpaugh as Principal and leader of its local sports, recreation, and entertainment practice. Peckinpaugh is widely respected for her design of event centers, community recreation centers, and university event, athletic, and performance facilities. She joins Perkins+Will as part of the recent merger with Sink Combs Dethlefs, where she built and led that firm's Chicago office.
The merger with Sink Combs Dethlefs establishes Perkins+Will as a new leader in sports and recreation, and comes at a time when design functions and practices, from health and wellness centers and healthcare facilities to hospitality, are converging. Peckinpaugh's experience strengthens Perkins+Will's commitment to designing for health, wellbeing, and sustainability, and will support growth opportunities not just in sports, recreation, and entertainment, but also in education and urban and civic design.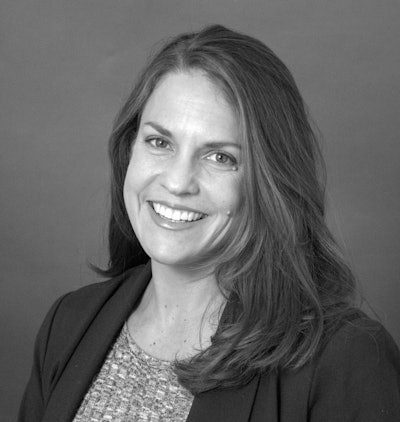 "I am truly excited to be part of Perkins+Will, well known as a leader in design excellence and health and wellness research, and at the industry forefront in advancing resilience in design," said Peckinpaugh. "I very much look forward to drawing on Perkins+Will talent across the firm to bring additional resources to our current and future clients. We are committed to maintaining the focus, attention, and service of a small firm with the added resources of a global firm."
"Lindsey and her experienced team bring tremendous assets to our Chicago studio that will influence our other practices," said Gina Berndt, managing director of Perkins+Will's Chicago office. "Lindsey's dedication to client service, experience in building consensus among project stakeholders, and her commitment to developing inclusive and diverse teams are highly valued by Perkins+Will and our clients."
Peckinpaugh's project work for cities, universities, and park districts, includes: the PPL Center arena and mixed-used development in Allentown, Pennsylvania, winner of the 2017-2018 Urban Land Institute Global Award for Excellence; the University of Dayton Arena renovation in Dayton, Ohio; the Athletic Performance Research Center, the Intercollegiate Athletics Facilities Master Plan, and the Al McGuire Center renovation for Marquette University in Milwaukee, Wisconsin; the University of Notre Dame Athletics Master Plan in South Bend, Indiana; the Recreation Center Feasibility Study for the Park District of Oak Park, Illinois; the UW Health Sports Facility and the Riverview Ice House Facility Master Plan for the Rockford Park District in Rockford, Illinois; and, the ARC Recreation Center and the Zone 250 Sports Performance Center for the West Chicago Park District in West Chicago, Illinois.
Peckinpaugh earned bachelor's degrees in architecture and in environmental design from Ball State University, where she is a member of the inaugural Architecture Advisory Board. She is a member of the U.S. Green Building Council and the National Council of Architectural Registration Boards, and is a regular speaker at park district and recreational sports associations.
About Perkins+Will
Perkins+Will is an interdisciplinary, research-based architecture and design firm established in 1935. Founded on the belief that design has the power to transform lives and enhance communities, we collaborate with clients all over the world to create healthy, sustainable places in which to live, learn, work, play, and heal. More than 2,000 professionals across over 20 Perkins+Will offices include some of the brightest minds in architecture, interior design, branded environments, urban design, and landscape
architecture. Clients consistently turn to us for our leadership and expertise in areas like sustainability, resilience, health and wellness, and mobility. Additionally, our Research Labs catalyze innovative design technologies and solutions that result in better, smarter, more competitive built environments. The recipient of hundreds of design awards each year, and a progressive leader in corporate social responsibility, Perkins+Will is consistently ranked among the world's top design firms. Our family of partner companies includes retail strategy and design consultancy Portland; sustainable transportation planning consultancy Nelson\Nygaard; healthcare technology planning firm Genesis Planning; and luxury hospitality design firm Pierre-Yves Rochon (PYR).
The Chicago office of Perkins+Will is the firm's founding office. Established in 1935, it remains the largest office in the firm, harnessing the expertise of more than 250 architects, interior designers, planners, and brand strategists. The office's work spans nearly every sector, including higher and K-12 education, healthcare, corporate, commercial, civic, and science and technology. From the acclaimed Crow Island School—the firm's first project completed in 1940—to the Shanghai Natural History Museum, the Newell Rubbermaid Design Center, Rush University Medical Center, Northwestern University Feinberg School of Medicine, and the U.S. Coast Guard Headquarters, the Chicago office is known worldwide for its legacy of award-winning design excellence.
For more information, visit www.perkinswill.com.