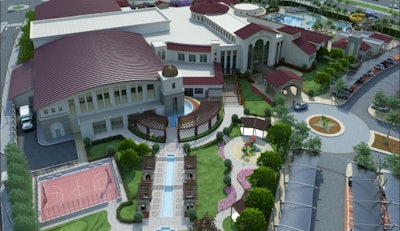 Source: OLC (Ohlson Lavoie Collaborative)
DENVER, January 5, 2017. OLC (Ohlson Lavoie Collaborative) is pleased to announce that its client, master developer Emaar, The Economic City (EEC) received the Global Award for Best Leisure Development – Saudi Arabia, at the International Property Awards in London for the Esmeralda Sports and Leisure Center in King Abdullah Economic City.
This OLC designed multi-use sports, recreation, and fitness complex will include an indoor sports complex featuring squash, tennis, basketball, soccer and cricket. There are three indoor pool environments; separate fitness venues for men and women including spin and aerobic studios; cardio and strength areas; multipurpose rooms; and an indoor walk/ jog track. Social amenities will include: bowling, billiards, spa, and food and beverage areas. Separate locker rooms for men, women and children include steam, sauna, showers, and prayer rooms. In addition to the many indoor attractions, the project includes outdoor tennis courts, a running track, outdoor full size soccer field, basketball, and outdoor social areas.
Log in to view the full article