Source: Power Systems
Power Systems, a leading provider of fitness and performance solutions for professional settings and home gyms, announces Fergus Ahern has joined the team as Director of Sales. He will be responsible for the direction and management of all sales-related activities with an emphasis on customer relationships.
Fergus Ahern has more than 25 years' experience in the fitness industry and has held sales and marketing positions at Dynamax and FitPro. He is joining the company from his most recent position at RFE International, a worldwide licensee for the Reebok and Adidas range of fitness equipment, where he headed up group sales. Ahern will be relocating to Knoxville from the UK in January 2018.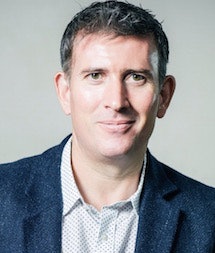 "I am absolutely delighted to be joining the Power Systems team. Having worked with them closely while at Reebok, it is clear to see the passion for the fitness industry the company possesses," said Ahern. "Power Systems has a tremendous heritage and reputation in the US health and fitness market and I'm looking forward to introducing them to new partners as well as developing a clear strategy for our existing customers at this very important time in Power Systems' development."

This position is specifically responsible for the management of sales, dealer sales, and business development, as well as all customer support functions of the sales aspect of the business.

Power Systems General Manager Josh Goldman said, "Fergus' wealth of experience and industry knowledge will make him a key addition to the Power Systems family. The increasing demand from our customers led us to look for an addition to our team who will provide leadership and passionately continue to drive growth. We are very fortunate that we were able to find someone of Fergus' caliber. I'm confident that Fergus will play a key role in providing and implementing high quality solutions for our clients."
ABOUT POWER SYSTEMS
Power Systems mission is to "Power Your Potential" by advancing health, fitness, and performance by being a resource to our customers. We are a leading provider of fitness and performance products for professional settings and home gyms - recognized throughout the sports and fitness industries for creating an extraordinary customer experience, complete product selection, and fast delivery. Since 1986, Power Systems passion for fitness has been fueled by our customers. In a fitness industry that has changed drastically over the last few decades, Power Systems is committed to continuously evolve with the industry while ensuring people have the tools to lead active lives with professional-grade products, cutting-edge educational materials, and elite customer service. "Power Your Potential" is the philosophy that guides everything Power Systems stands for.