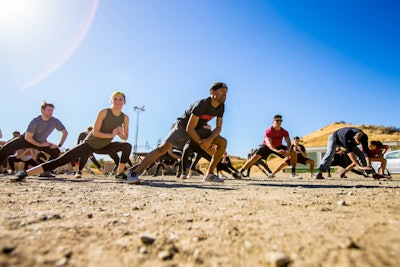 Source: UFC
UFC GYM debuting exclusive Bear Grylls Survival Challenge-inspired Daily Ultimate Training curriculum in February 2018



Jan. 17, 2018 (LOS ANGELES) – Bear Grylls Survival Challenge (BGSC) and UFC GYM®, the first major brand extension of UFC®, the world's premier mixed martial arts organization, are partnering to elevate the sport of survival. Beginning February 2018, BGSC and UFC GYM will debut a BGSC-inspired 'Daily Ultimate Training® (DUT®) curriculum at participating locations across the United States to equip individuals with the tools and skills necessary to handle the unexpected.
"UFC GYM is the ideal fitness partner for Bear Grylls Survival Challenge," said Rupert Tate, CEO, Bear Grylls Ventures. "As we further define the unique category of competitive survival, our participants will be given an opportunity to engage with elite UFC GYM training techniques and world-class coaches, and put those skills to the test on our rigorous course."
The BGSC-inspired DUT class has been developed by top UFC GYM coaches and industry experts and will be the sanctioned pre-event training center for the BGSC, which takes place on April 28 and 29, 2018 in Santa Clarita, California. As the exclusive fitness partner, UFC GYM will also host an interactive event-day experience before, during and after the BGSC, which will include UFC GYM equipment and survival techniques integration into course challenges to test participants' cognitive ability, physical dexterity and overall endurance; as well as a UFC GYM Recovery Corner in the BGSC Finish Festival.
UFC GYM offers a holistic approach to fitness through its TRAIN DIFFERENT® program, fusing a multi-disciplined approach of MMA, personal training, nutrition, AND state-of-the-art equipment and facilities, in addition to top-notch coaching and classes. UFC GYM programming has been developed through exclusive access to the training regimens of internationally-acclaimed UFC athletes, providing members with everything they need for the entire family to move, get fit and live a healthy lifestyle.
Steve Stonehouse, Vice President, Fitness, UFC GYM, said: "We're proud to align with Bear Grylls Survival Challenge in what promises to be a truly innovative collaboration providing real-world application for the intense, rewarding and tailored training our members and fitness community receive at UFC GYM."
The inaugural Bear Grylls Survival Challenge event will take place April 28 and 29, 2018, at the Blue Cloud Movie Ranch in Santa Clarita, California. Participants will compete on a four-mile, off-road journey that will take them through 18 unique survival scenario challenges. The course will run across five distinct environments: apocalyptic highway, cave complex, deserted village, mountain ascent/descent and snake infested swamp.
Registration for the Los Angeles event is now open. Current UFC GYM members can take advantage of an exclusive pricing incentive. To experience UFC GYM, mention 'Bear Grylls Survival Challenge' at participating locations to receive a complimentary five-day guest pass. For further information, visit beargryllssurvivalchallenge.com or follow @beargryllson Instagram, @beargrylls on Twitter and RealBearGrylls on Facebook. To learn more about UFC GYM, please visit UFCGYM.com.
Bear Grylls Survival Challenge is a joint venture between Bear Grylls Ventures and IMG, an Endeavor company. UFC is also part of the Endeavor network.
About Bear Grylls
Bear Grylls has become known worldwide as one of the most-recognized faces of survival and outdoor adventure. His journey to this acclaim started on a small island off the UK coast, where his late father taught him to climb and sail. Trained from a young age in martial arts, Grylls went on to spend three years as a soldier in the British Special Forces, as part of 21st SAS Regiment. It was here that he perfected many of the survival skills that his fans all over the world enjoy, as he pits himself against the worst of Mother Nature. Despite a free-fall parachuting accident in Africa, where he broke his back in three places and endured many months in military rehabilitation, Grylls went on to become one of the youngest climbers ever to reach the summit of Mount Everest.
He then went on to star in seven seasons of the Discovery Channel's Emmy Award-nominated "Man vs. Wild" TV series, which became one of the most-watched shows on the planet, reaching an estimated 1.2 billion viewers. Since then he has gone on to host more extreme adventure TV shows across more global networks than anyone else in the world, including the BAFTA award-winning The Island with Bear Grylls and BAFTA award-winning Bear Grylls Survival School. In addition, Bear produces and hosts 'Bear's Mission with...' for ITV, NBC's 'Running Wild' and 'Absolute Wild' for Dragon TV in China. He is a number 1 bestselling Author, an Honorary Colonel to the Royal Marine Commandos and the youngest-ever Chief Scout, and inspiration to forty million Scouts worldwide.
About UFC GYM®
UFC GYM® is the first major brand extension of UFC®, the world's premier MMA organization. In alliance with New Evolution Ventures™ (NeV), developers of many of the world's most successful fitness brands, UFC GYM offers a full-range of group fitness classes, private MMA coaching, personal and group dynamic training, plus MMA-style youth programming, providing something for all ages and fitness levels. As the first to combine the worlds of MMA and fitness, UFC GYM's TRAIN DIFFERENT® approach creates an atmosphere where members can see immediate results. UFC GYM is the ultimate fitness experience. The brand is not what you expect, and more than you can imagine. With 140 locations open and more than 400 currently in development, UFC GYM is revolutionizing the fitness industry. For more information, please visit www.ufcgym.com. Like UFC GYM at www.facebook.com/ufcgym, follow at www.twitter.com/ufcgym and www.instagram.com/ufcgym or subscribe at www.youtube.com/UFCgym.
About UFC®
UFC® is a premium global sports brand and the largest Pay-Per-View event provider in the world. Acquired in 2016 by global sports, entertainment and fashion leader Endeavor (formerly WME | IMG), together with strategic partners Silver Lake Partners and KKR, UFC is headquartered in Las Vegas with a network of employees around the world. UFC produces more than 40 live events annually that consistently sell out some of the most prestigious arenas around the globe, while programming is broadcast in over 163 countries and territories to more than 1.1 billion TV households worldwide in 35 different languages. UFC FIGHT PASS®, a digital subscription service, delivers exclusive live events, thousands of fights on-demand and original content to fans around the world. For more information, visit UFC.com and follow UFC at Facebook.com/UFC, Twitter, Snapchat and Instagram: @UFC.
About IMG
IMG is a global leader in sports, fashion, events and media, operating in more than 30 countries. The company manages some of the world's greatest sports gurus and fashion icons; stages hundreds of live events and branded entertainment experiences annually; and
is a leading independent producer and distributor of sports and entertainment media. IMG
also specializes in sports training and league development, as well as marketing, media and licensing for brands, sports organizations and collegiate institutions. IMG is part of the Endeavor (formerly WME | IMG) network.