Source: Escape Fitness
Cincinnati, OH February 7, 2018– Midtown Athletic Club in Chicago, established in 1970 as a prominent tennis club, opened the doors to its newly renovated 577,000 square foot, $80 million club and flagship hotel, featuring functional equipment from Escape Fitness in its individual and group training area named The Field.
Size and amenities galore make Midtown Athletic Club and The Hotel at Midtown in Chicago the largest premier health and fitness club in the United States. One unique-to-the-industry feature at Midtown is the curated, best of boutique programming paired with big-club amenities under one roof. Think of Midtown as the premiere destination for all of your health and wellness needs: indoor and outdoor pools, whirlpools, tennis courts, yoga, and boxing, cycling studio, a golf simulator, fitness classes, a full-service spa, a farm-to-table style restaurant and more. The exciting offerings include but are not limited to yoga, cycling, boxing, functional fitness, group exercise, health and beauty treatments at The Spa (health and beauty treatments) as well as a restaurant named Chromium.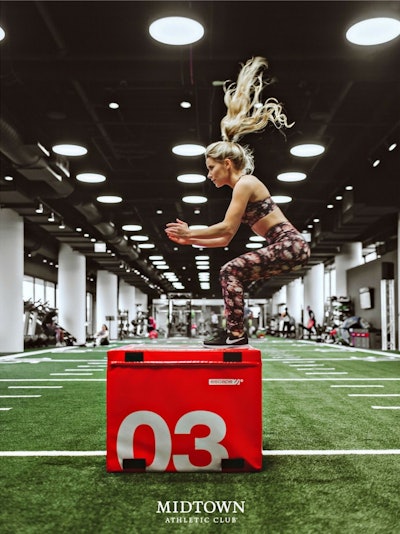 To create The Field's functional fitness needs, Midtown partnered with Escape Fitness. A giant football field marked by a massive, black, concrete wall at the end of the space, The Field delivers unique programming and versatile training options for guests. To do this well, The Field is outfitted with optimal athletic and functional training equipment, where members can perform movements as old as time using cutting edge technologies to maximize efforts.
Designed to inspire movement and foster community, Escape provided SBX Rubber Barbells,SBX Olympic Plates, Urethane Dumbbells, Studio Kettlebells, Agility Grid, Adjustable Hurdle, Lateral Speed Resistor, Reaction Ball, Resistance Parachute, Speed Discs, Speed Ladder, Speed Resistor, TIYRs, Plyosoft Boxes and more for The Field.
"To be part of the world's only club like this is absolutely a vote of trust and an honor. Like Escape does in developing products, Midtown set out to create something people will love," said Matthew Januszek, co-founder, Escape Fitness. "There are so many options for fitness and every club is looking for what's next. I think Midtown Athletic Club in Chicago has completely nailed it. Experience is what's next."

"More than a fitness destination alone, Midtown Athletic Club in Chicago is a communal experience. It's about movement and community," said Richard Earney, national programming director, Midtown Athletic Club in Chicago. "Partnering with Escape for tools and toys in The Field was the right decision for us as the equipment they deliver adheres to our guiding principal: deliver exceptional experiences for our members at every touchpoint."
After two years researching and analyzing the global boutique fitness industry, Midtown's National Director of Programming Richard Earney developed Midtown's "best of boutique" programming concept. His immersion in the space armed him with the knowledge to help shape the fitness experience Midtown offers – with design and customer service baked into adventures members will truly embrace and build a community around.
Escape's co-founder Matthew Januszek recently interviewed Richard about his journey from running beach bootcamps in New Zealand to his position at Midtown, the thinking behind this unique destination, and his thoughts on the future of fitness.The Escape Your Limits podcast (Episode 3) can be found on iTunes - https://itunes.apple.com/gb/podcast/escape-your-limits/id1321349827?mt=2
About Escape Fitness
Founded in 1998, Escape Fitness has built a reputation for product innovation, quality and design while growing and competing through great partnerships in challenging markets worldwide. We have helped improve the bottom lines of over 1,000 fitness clubs and key distributors in 80 countries. Committed to functional training since our inception, we work with clubs that invest in functional training spaces to deliver the best possible exercise experiences; we encourage you as fitness professionals and clients to 'Escape Your Limits' – a mentality that is the foundation of our every offering. We are pleased to work with industry leading brands worldwide, including Equinox, Fitness First, Virgin Active, UFC Gyms, Crunch, Nuffield Health, David Lloyd, 1Rebel, 24 Hour Fitness, Marriott, Life Time Fitness, Jatomi and many more. For information: http://www.escapefitness.com/us
About Midtown Athletic Clubs
Midtown Athletic Clubs manages a portfolio of super-premium health and fitness clubs in the U.S. and Canada, including Midtown Athletic Club and The Hotel at Midtown in Chicago, which is scheduled to open in July 2017. Midtown provides members and guests with the places and people to help them live healthy and happy lifestyles. Midtown Athletic Clubs feature the best of everything at world-class facilities – from spas to swimming pools, tennis to turf training, bistros to boutiques, and of course, state-of-the-art fitness. For more information, please visit www.midtown.com.