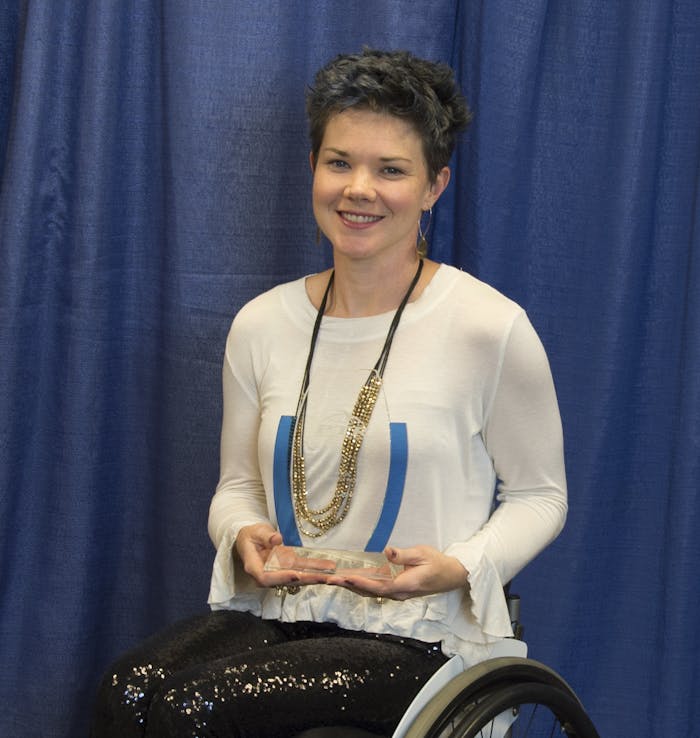 Source: PTR
Hilton Head Island, SC — Professional Tennis Registry (PTR) presented its annual awards last night during the 2018 PTR International Tennis Symposium. The event, which includes more than 40 educational presentations for tennis teachers and coaches, is underway through February 18, on Hilton Head Island, South Carolina.
Sarah Casteel, of Greenville, South Carolina, has been named PTR Wheelchair Professional of the Year. Although a PTR member for only a year, for a long time Casteel has been a familiar face at the PTR Wheelchair Championships.   
Casteel's wheelchair tennis career began at the University of Texas — Arlington, where she received a full wheelchair tennis scholarship. In 2004 and 2005, Casteel won the National Collegiate Wheelchair Tennis Championships. After graduating, Casteel played on the professional circuit, reaching an ITF ranking of #27 in the world. As a member of the USTA High Performance Wheelchair Tennis Team, she represented the USA for the World Team Cup competition in the Netherlands.  
After being a player for 15 years, last year, Casteel turned her sights to teaching wheelchair tennis. She was instrumental in starting a wheelchair tennis program for Adaptive Expeditions in Charleston, SC, where she served as Head Coach. She also created a wheelchair tennis program at the Kroc Tennis Center in Greenville, SC, and is currently the Head Coach of the Kroc Center Wheelchair Tennis Team.  
In addition, Casteel leads wheelchair tennis clinics throughout North Carolina and South Carolina for the Orthotics and Prosthetics Activities Foundation, where she has the opportunity to work with wheelchair tennis players and wounded veterans.   
Currently on the board of the USTA South Carolina Wheelchair Tennis Committee, in December, Casteel was honored with the USTA South Carolina Community Service Award.
About PTR
PTR is the largest global organization of tennis teaching professionals with more than 16,000 members in 125 countries. It has the greatest percentage of multicultural and women members of any such organization. PTR is dedicated to educating, certifying and serving tennis teachers and coaches around the world in order to grow the game.