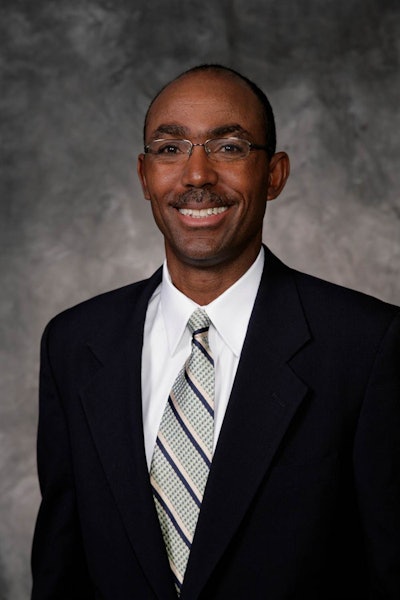 Hilton Head Island, SC — Professional Tennis Registry (PTR) is extremely pleased to announce Rodney Harmon as its new PTR President.
"We are thrilled to have someone as respected, talented and experienced as Rodney to serve as PTR's new President," said PTR CEO, Dan Santorum. "Rodney is the first African American male to become President of a major tennis organization in the United States, and he will further solidify PTR's commitment to diversity in tennis. Rodney will be a tremendous leader who will help PTR continue to educate, certify and service tennis coaches around the world."
Harmon is from Richmond, Virginia, where he grew up a protégé of the legendary Arthur Ashe. He played collegiately at Tennessee and SMU. It was at Tennessee where Harmon teamed with Mel Purcell to win the NCAA Doubles title in 1980, and got to the semis in singles, which ultimately played a role in Harmon being inducted into the ITA Men's Collegiate Tennis Hall of Fame in 2010.
While still a student-athlete at SMU, Harmon advanced to the quarterfinals at the 1982 U.S. Open with a win over 1980 Australian Open Champion, Brian Teacher, before falling to eventual champion Jimmy Connors. Following his successful collegiate career, Harmon played professionally where he reached a career high of 56 on the ATP Tour.
In his first stint working for the USTA, Harmon started at the Princeton office, working for Eve Kraft, where he ran the USTA Tennis Teachers Conference. Then he spent four years as a USTA National Coach working with future pros, including Todd Martin, Mal Washington and Alex O'Brien.
Harmon left the USTA to become the Head Men's Tennis Coach for the Miami Hurricanes. The USTA recruited him back to work at the USTA training center headquarters in Boca Raton, Florida, where he advanced to Director of Men's Tennis. During his tenure at the USTA, Harmon served as the Head Coach of the U.S. Men's Tennis team at the 2008 Olympic Games in Beijing, China.
In 2012, Georgia Tech hired Harmon to become the Head Coach of the Lady Yellow Jackets. He has guided them to several NCAA appearances. Harmon was named ACC Coach of the Year in 2016 and 2017. Currently, his team is ranked #7 in the Nation, and will be a contender for this year's NCAA National Championship.
"I am humbled and honored to serve as PTR President, following such tennis pioneers as Dennis Van der Meer, Jean Mills, Jorge Andrew and Roy Barth," said Harmon. "PTR is an organization that is dedicated to 'Making a World of Difference' in the professional lives of its members and in the sport of tennis. I look forward to further raising the profile of our profession, while attracting a young, passionate and diverse group of coaches to our industry."
About PTR
PTR is the largest global organization of tennis teaching professionals and coaches with nearly 16,500 members in 125 countries. It has the greatest percentage of multicultural and women members of any such organization. PTR is dedicated to educating, certifying and serving tennis teachers and coaches around the world in order to grow the game.