Source: PLAE
WOODSTOCK, Ga. – March 2, 2018 – To support growth in its PLAE Perform division, which presents educational seminars and workshops, targeted training sessions and information resources to strength & conditioning coaches worldwide, PLAE has named industry veteran Angelo James director of athletic programming. PLAE Perform is a unique division of PLAE that drives education in athletic performance.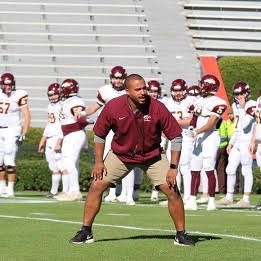 "Angelo has been a valued member of my staff at multiple locations, and has experience at every level – professional, NCAA and high school – which is instrumental as we become a global leader in performance and education," said internationally recognized strength & conditioning coach and bestselling author Ron McKeefery (Coach Mac), who directs PLAE Perform as vice president of performance and education for PLAE. "Plus, his core values and willingness to be a resource take him to another level."
James will work with Coach Mac to develop and implement programs for general and athletic populations as part of the PLAE Perform Institute, assist in creating and delivering a PLAE certification, manage internal staff and community fitness programming for the PLAE Perform Institute and provide educational resources such as podcasts, presentations, blogs and more.
Most recently the director of human performance at Madison Academy, in Madison, Alabama, James developed programs for the 2017 state champion girls' basketball team and designed the first-ever official strength & conditioning programs for the athletic department. Previously, he worked as a strength & conditioning intern with the Carolina Panthers NFL team in Charlotte, NC, and served as the assistant strength & conditioning coach for football at University of South Carolina in Columbia, Mississippi State University in Starkville and University of Tennessee in Knoxville.
James also was the director of strength & conditioning at Bryant University in Providence, Rhode Island, where he ran programs for all 17 men's and women's NCAA Division I sports.
Certified as a Strength & Conditioning Coach (CSCS) by the National Strength and Conditioning Association (NSCA), James also is the director of education for the National High School Strength and Conditioning Association. He earned a bachelor of science in business administration and health, human and sport performance from Wayne State College, in Wayne, Nebraska, where he played NCAA Division II football.
About PLAE
PLAE is redefining athletic flooring as a foundational component of every training space, creating active solutions that equip people to achieve their best selves. Pushing boundaries, pursuing innovation and harnessing technology and design are daily passions at PLAE. Boldly committed to raising the bar, PLAE drives powerful performance.