SOURCE: upace
Applies Lessons from Client Partnerships to Strengthen Community Engagement
Fort Lauderdale, FL—With an eye on service and an ear to its clientele, upace is undergoing a major facelift, and it's a collaborative effort that underscores client partnership. For more than three years, while upace has been delivering customizable technology to recreation, fitness and community centers, the team has continued to listen and learn.
"Upace 2.0 is about taking things to the next level by using client feedback to create a more dynamic and powerful tool for rec centers," said upace CEO and Founder Rachel Koretsky. "The ultimate result is boosting center occupancy, class registrations, and student engagement while collecting essential data that helps to drive decisions with financial impact."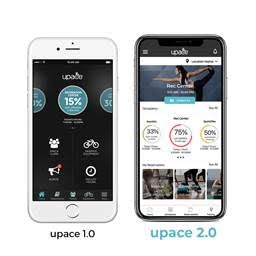 Upace's new app design and user interface teem with color and imagery intended to grab members' attention, but the transformation is more than cosmetic. A new "Recommended for You" section ties class and event suggestions to individual member's preferences and records. Links to other programs directly connect members to other center offerings such as day camp. That functionality, combined with streamlined reservation and notification functions, is improving the entire member experience.
On the managerial side, there are more advanced options for automatically gathering data and acting on them. Whether a client chooses the universal app or a custom-branded app with its own logo, colors, and imagery, upace 2.0 enables real time data-tracking that informs operational decisions. The new mobile features added by rec center staff instantaneously appear on the app without members having to download updates. Plus, the admin portal allows for building administrative forms and quickly assigning, commenting on and tracking their status.
"We're excited for the new design and interface. The use of bright colors and the ability to control the imagery so we can show our actual classes, instructors, and facilities will allow our members to further connect with our communities," said Jim Paro, CIO for YMCA of Greater Brandywine, PA.
That's music to the upace team's ears. Their number one goal for upace 2.0 is to meet clients' needs and give them all the power they can imagine right at their – and their members' – fingertips.