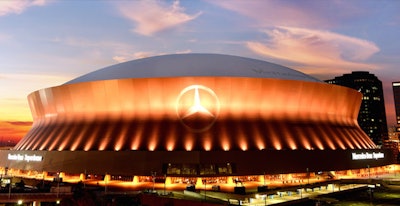 SOURCE: Act Global
The premier New Orleans stadium to receive the leading artificial grass technology from the American-based manufacturer for the 2018 season
Following a strong 2017 season, the SMG-managed Mercedes-Benz Superdome in New Orleans has chosen Act Global for the second-consecutive year as the manufacturer and installer for turf. The new field will be installed in late July before the New Orleans Saints' first game against the Atlanta Falcons.
Due to its iconic nature and high demand, the Superdome is one of the most heavily used sport, concert and event venues in the nation. For this reason, it is also one of the only stadiums to install a new artificial grass system each year to as it requires the non-grass floor space between football seasons. Act Global supplies superiorly-engineered turf systems created to advance player safety and performance. After exceptional feedback both internally and externally regarding the quality and appearance of the field, Act Global was announced as the preferred artificial grass provider this year as well.
"Act Global is honored to be selected again as the playing surface for a number of important NFL and NCAA games. We are thrilled to work with such a wonderful team at the Mercedes-Benz Superdome and SMG. They have a passion for creating the best game experience possible for the players and fans, and we appreciate the great feedback concerning our turf quality and performance. We are committed to continue providing the best support and turf experience possible," comments Act Global CEO, John Baize. "
Last year's synthetic turf field was relocated to a public high school in Meriden, Kansas as part of a donation project through KTX Sports Construction's Project 340.
About Act Global
Act Global is a world leader in synthetic turf technology with an ISO 9001 Quality Certified manufacturing facility in Calhoun, Georgia, and field installations in over 80 countries. The Act Global UBU Speed Series is the leading brand for NFL & NCAA Division I Football Fields and currently includes the New Orleans Mercedes-Benz Stadium, New York/New Jersey Met Life Stadium, Minnesota U.S. Bank Stadium and Cincinnati Paul Brown Stadium as well as numerous other NFL and NCAA facilities. Act Global is a FIFA Quality licensee and preferred supplier for World Rugby, the International Hockey Federation, and the United Soccer League. For more information, visit http://www.actglobal.com