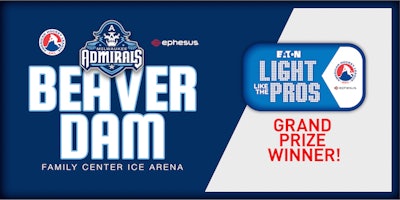 SOURCES: American Hockey League, Eaton's Ephesus Lighting
SPRINGFIELD, MA., MARCH 28, 2018 … At a ceremony today in Beaver Dam, WI, the Milwaukee Admirals of the American Hockey League (AHL)and power management company Eaton announced that Beaver Dam Family Center Ice Arena is the winner of the Ephesus Light Like the Pros promotion and will receive a free Ephesus LED sports lighting system valued at more than $50,000.
The Beaver Dam Family Center Ice Arena, home to the Beaver Dam Hockey Association and Swan City Ice Skaters, is a Non-Profit 501(c)(3) volunteer organization operated by the dedication, hard work, and commitment of families participating in the programs. The facility was made possible, more than 35 years ago, by the dream of area residents who embarked on a capital fundraising campaign and took out second mortgages on their homes to finance the construction of the building and institutionalize youth skating programs for the community.
Log in to view the full article