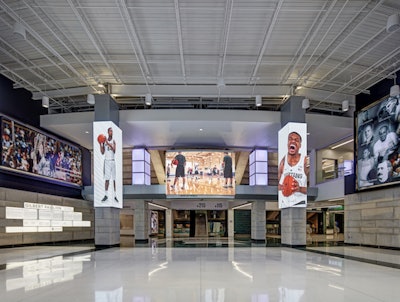 SOURCE: ROSSETTI
MSU's home for hoops and events given extensive renovations
DETROIT, Mich., April 11, 2018 – ROSSETTI, an award-winning sports and entertainment architecture firms, has completed renovations of Michigan State University's Breslin Student Events Center, creating a world-class professional entertainment center for a multitude of campus and community events that has been reported by ESPN to be "better than most pro arenas."
"After 25 years, there was an opportunity to enhance the aesthetic of the Breslin Center, giving it the look of a professional arena and reflecting the atmosphere fans experience attending events at the venue," said Matt Rossetti, president of ROSSETTI. "Our goal with this project was to update the Breslin Center in a way that both celebrated the storied history of the basketball program while incorporating expanded social spaces and dynamic technological displays to provide fans with an even greater immersive experience."
An immediate difference fans will notice on arrival is the new plaza and pavilion located at the Northwest Campus entrance of the Breslin Center. Fans are welcomed to the new Championship Plaza by the iconic statue of Magic Johnson, and drawn into the new Gilbert Pavilion by the bold, canted glass façade.
The Pavilion is home to the Basketball Hall of History—a grand, museum-quality hall connected to the newly expanded arena concourse—and includes state-of-the-art interactive displays to honor the Spartans' legacy. LED columns display customizable content of players past and present. A uniform diorama display shows the Spartans' classic green and white uniforms throughout the years. Even the court from the men's 2000 National Championship game is used, tying in real-world artifacts with the technology displays.
The renovations also include a new strength and conditioning room named after Spartan basketball star Draymond Green, who donated $3.1 million to the school's basketball program in 2015, a new alumni locker room and the Recruitment Lounge.
With the newly expanded concourse space, a public plaza and new food and beverage options for fans, the already dynamic setting of the Breslin Center has been upgraded to an exclusive collegiate arena experience.
To learn more about the Breslin Center and the other work ROSSETTI has done in creating world-class sports and entertainment venues, visit www.rossetti.com
About ROSSETTI
The ROSSETTI discover, dare, deliver approach transforms design ideas from unthinkable to reality. Family-owned for 50 years, our history of creating innovative, game-changing sports facility designs began in 1986 with the Detroit Pistons' NBA arena, where the first integration of suites within the seating bowl took hold. This design revolutionized the fan experience and economics of arena design. That first innovation fueled a spirit of adventurous thinking and a culture of investigation, critical analysis and strategic design. Significant recent sports projects include the first motorsports stadium at Daytona International Speedway, the Green Bay Packers 'Titletown' sports-anchored development adjacent to Lambeau Field, the USTA's National Tennis Center master plan, Grandstand Stadium and retractable roof over Arthur Ashe Stadium, the UCLA Health Training Center and home to the LA Lakers, and major renovations at TD Garden and Michigan State University's Breslin Center. To learn more, visit www.rossetti.com.