Source: Colgate University
Nicki Moore has been selected to lead Colgate's athletics, recreation and physical education programs, following a national search for a new athletics director. Colgate sponsors 25 Division I teams with over 500 student-athletes.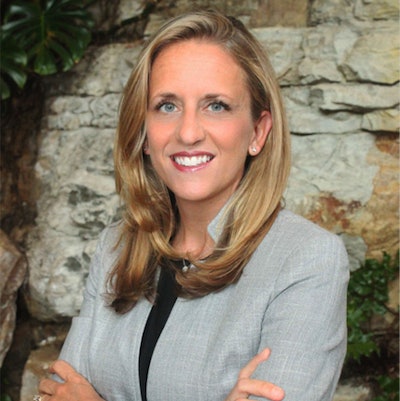 Moore comes to Colgate from the University of North Carolina at Chapel Hill, where she has served as Senior Associate Athletic Director and Senior Woman Administrator since 2015. Starting July 1 Moore will step into a role formerly held by Colgate alumna Victoria Chun '91, MA'94, who was recently named Athletic Director at Yale University.
"Nicki knows what it means to be a scholar-athlete," said University President Brian W. Casey. "Her career exemplifies a commitment to academic rigor and competition at the highest levels — a combination that describes Colgate's own Division I tradition."
A press conference is scheduled for 4:30 p.m. at the Class of 1965 Arena in Hamilton, Wednesday, May 2.
A graduate of the University of Missouri, Moore holds a doctorate and master's degree in counseling psychology, with an emphasis in sport psychology, and a bachelors in secondary education. In her role at UNC, Moore guided 25 administrators for 28 sports with more than 800 student-athletes, achieving two top-ten Directors Cup Finishes, five National Championships, and eight ACC Championships in the past three years.
"It is an honor to join President Casey's leadership team and to help achieve his inspiring vision for Colgate University. I am eager to get to campus, to get to know the people of Colgate, and to build on the excellent foundation of academic success, athletic achievement, and community engagement," Moore said. "I am deeply grateful to Bubba Cunningham, Chancellor Carol Folt and the coaches, student-athletes and colleagues who have become friends and mentors during my time at the University of North Carolina. My family and I are grateful for the opportunity and we are excited to join the Colgate family and the Hamilton community."
In her previous role, Moore served as a key member of the Athletic Department's leadership team, guiding strategic initiatives to expand sport program support, leading gender-equity initiatives, establishing an athletic mental health and performance psychology program, assisting in crafting a dynamic strategic plan, and helping to raise millions in capital funding.
Search Committee Chair and Associate Dean of Faculty Ken Belanger, a professor of biology said, "Nicki has shown tremendous leadership and initiative in starting and enhancing programs that benefit student-athletes in the classroom, in athletic competition, and in their personal and professional lives. She has been particularly proactive in initiatives around mental health and diversity issues."
Belanger also added that everyone the committee talked with had high praise for Moore, from coaches and athletic staff, to academic administrators and faculty.
"Nicki has been a fantastic colleague in every way — her professionalism, enthusiasm, integrity, and character," said UNC Athletic Director Bubba Cunningham. "She exudes confidence and humility at the same time." UNC Chancellor Carol Folt shared, "Since setting foot on our campus three years ago, Nicki has worked earnestly to build bridges, to encourage and empower others around her, and to make whatever she touched better than she found it. She is both an eager learner and a confident leader, and I believe Colgate University is so fortunate to have her as the next Vice President and Director of Athletics."
An accomplished scholar, Moore has been published for her academic work related to training and conditioning, psychological guidelines for coaches, athletic trainers, and athletes, and for the development of the student-athlete experience.
UNC Exercise and Sport Science faculty member Robert Malekoff said that Moore, "understands the importance of integrating athletics with academics and student life." Moreover, he said, "She is a tireless worker and very visible. In that position, you are expected to be so many things to so many people, and she handles it effectively."
Prior to her time at UNC, Moore worked for 11 years at the University of Oklahoma, where she was a Senior Associate Athletics Director for Student Life and Strategic Planning, oversaw the construction and operations of Headington Hall, led the athletics academic and student life division, as well as served as Senior Woman Administrator.
"She has a very special way to engage, connect, and bring people together," said University of Oklahoma Athletic Director Joe Castiglione, who has known Moore since her days as a student-athlete at Missouri. "I just think she's one of the best around, and I am so excited for her to have this new opportunity. I know she'll be successful."
Moore has also worked to lead the profession of intercollegiate athletics at the conference and national level. She served on numerous committees in the Big 12 Conference and Atlantic Coast Conference, as well as on the NCAA Strategic Visioning and Planning Committee.
Off the field and outside of the office, Moore volunteers her time with Habitat for Humanity, Rotary International, and several mentorship programs for children, women, and emerging professionals in Athletics.
"Nicki is a winner—a winner with the highest integrity," said Patti Phillips, CEO of Women Leaders in College Sports. "She is also extremely engaging, and a visionary who has a wealth of broad experiences. Colgate has been winning, and she will keep that going."
Moore models the true meaning of student-athlete. As an undergrad at the University of Missouri, she served as a four-time captain on the track and field and cross country teams, while becoming a three-time conference champion, a two-time NCAA Championships qualifier, and a silver medalist at the USA Outdoor Junior Nationals and the Junior Pan-Am Games. An Academic All-American, she earned postgraduate scholarships from both the NCAA and the Big 12 Conference.
Moore and her husband Bill have a nine-year-old son Ian, and adult step-sons Cullen, Tyler, and Brennan.