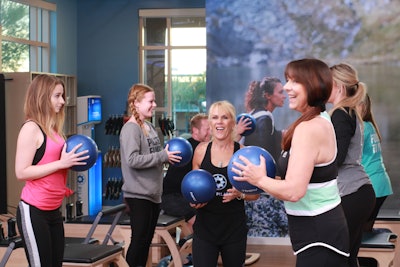 Source: Club Pilates
National Pilates Franchise Offers Exclusive Giveaway, Expands Reach of Classes through Facebook Live Broadcasts
COSTA MESA, Calif. (April 27, 2018) – The mission of Club Pilates is to share the benefits of Pilates with everybody. In celebration of National Pilates Day, the nation's largest Pilates franchise is taking this mission to an extreme. In an effort to encourage everybody to try the effective full-body workout format, Club Pilates studios nationwide are giving $10 e-gift cards to anyone who completes a free, 30-minute Intro Class betweenMonday, April 30 and Sunday, May 6.
Founded in 2007, Club Pilates offers group and private Reformer Pilates classes, providing consumers a tailored, high-end workout at an affordable price. With seven signature class types offered at four different levels, there is a workout perfectly suited for every fitness level and age.
"National Pilates Day is the perfect way to reinforce our mission here at Club Pilates," said Sarah Luna, SVP of Operations of Club Pilates. "We truly believe everybody can benefit from Pilates. Our hope is that by extending this special offer, we can encourage more people to sign up for their first class and begin their Pilates journey."
Pilates Day is an annual, international, community event organized by the Pilates Method Alliance and celebrated on the first Saturday of May every year. The Pilates Day mission is to foster the public's appreciation and awareness of the Pilates Method through Pilates events accessible and affordable for all.
Book your Free Intro class here to try Pilates and receive a $10 e-gift card!
In addition to nationwide Intro classes, Club Pilates will also be broadcasting on Facebook Live throughout the week to bring Pilates education to people in the comfort of their own homes. The Facebook Live sessions will feature specials like tours of the studios, explanations of equipment and even a live stream of an Intro Class. Follow Club Pilates on Facebook to tune in to the Facebook Live broadcasts.
About Club Pilates
Club Pilates is the nation's largest boutique Pilates concept specializing in Reformer fusion classes for anyone, at any age or fitness level. Pure to Joseph Pilates' original Reformer-based Contrology Method, but modernized with group practice and expanded state-of-the-art equipment, Club Pilates offers high-quality, life-changing training at a surprisingly affordable price. With more than 1,300 instructors teaching over eight million workouts each year, Club Pilates is the first studio to create a 500-hour Teacher Training Program designed to thoroughly and safely teach group Pilates apparatus classes along with TRX, TriggerPoint, and Barre. To learn more about Club Pilates, please visit https://www.clubpilates.com/.