SOURCE: Musco Lighting
WASHINGTON D.C. – Saturday night will mark D.C. United's home debut at newly-built Audi Field, featuring a state-of-the-art LED lighting system designed to enhance the stadium experience and help advance the Club's commitment to environmental responsibility.
Among D.C. United's top priorities throughout the planning, design, and construction of Audi Field were to provide a top entertainment experience for Major League Soccer (MLS) fans, as well as be among the league's most energy efficient stadiums.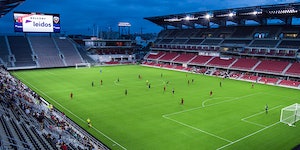 For their field lighting system, project leaders explored a number of LED options from various manufacturers. They chose to partner with Iowa-based Musco Sports Lighting, whose Total Light Control—TLC for LED® is featured at nearly 70 MLS, English Premier League, NFL, MLB, NBA, and NHL venues around the world.
"Throughout the planning and construction stages of Audi Field, our goal was to be at the forefront of cutting edge technology to enhance fan experience and provide the community with an energy efficient stadium," said Tom Hunt, United president of business operations. "We're excited to use Musco Sports Lighting to create an electric atmosphere at Audi Field while maintaining the highest standard of green efficiency."
Tailored specifically to the architectural design and field specifications at Audi Field, the lighting features customized optics around the LEDs that help deliver a more uniform distribution of light, patented visoring to eliminate glare from affecting players and spectators, and multi-zone aiming which reduces harsh shadows and greatly improves the HD broadcast quality.
The system also integrates with the stadium's DMX controls, enabling each individual fixture to synchronize with music for the creation of cutting-edge special effects and light shows, producing an enhanced experience for MLS games and other events being held at the venue.
With the LED lighting in place, energy consumption at Audi Field will be 61 percent less than if it had installed non-LED lighting. The 20,000-seat stadium includes a number of other energy efficient features, helping it achieve LEED Gold certification from the United States Green Building Council. The field lighting system is backed by a long-term warranty that relieves the Club from having to pay for any maintenance—including parts and labor—over the next 10 years.
"D.C. United is committed to providing fans with an unforgettable entertainment experience and staying true to its values in terms of being environmentally responsible," said Jeff Rogers, Vice President of Musco Lighting. "Audi Field brings the Club's mission to life in some really impressive ways. Saturday night is going to be a memorable event, and we're proud that our LED technology will be a part of it."
About D.C. United
One of the founding clubs of Major League Soccer in 1996, D.C. United are the most decorated team in the United States with 13 domestic and international trophies, and the most championed professional team in the District of Columbia. The Black-and-Red have won the MLS Cup four times (1996, 1997, 1999 and 2004), the Supporters' Shield four times (1997, 1999, 2006 and 2007) and the Lamar Hunt U.S. Open Cup three times (1996, 2008 and 2013). ~United have called the District home for the past 22 years and will continue that tradition as they move into Audi Field in Southwest D.C. on July 14, 2018. The state-of-the-art urban facility has a capacity of 20,000 fans and will feature 31 luxury suites, a bike valet, and 500,000 total square feet of mixed-use retail and residential space on site, making it a 365-day destination for fans and D.C. residents alike.
About Musco Lighting
Since 1976, Musco has specialized in the design and manufacture of sports and large-area lighting with innovations in light quality, glare reduction, and light control responsible to the needs of facility owners, users, neighbors, and the night sky. Musco's TLC for LED® system technology delivers a level of light control and uniformity that can't be matched, and is the solution of choice for neighborhood fields, collegiate and professional stadiums and arenas, international speedways, and global events such as the Olympic Games. Musco backs its LED solutions with a long-term warranty covering parts and labor, eliminating maintenance concerns and costs for its customers.