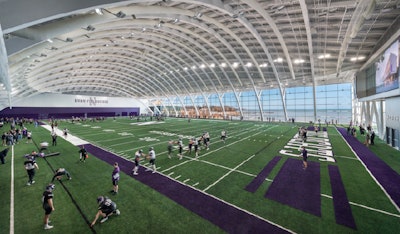 SOURCE: Perkins+Will
EVANSTON, Illinois—August 8, 2018—With its sweeping horizontal glass façade and unobstructed views over Lake Michigan, the Ryan Fieldhouse and Walter Athletics Center on Northwestern University's Evanston, Illinois, campus combines a myriad of support services into a first-of-its-kind, multi-purpose center for student-athletes. Designed by global architecture firm Perkins+Will, the critically-acclaimed building represents a thoughtful convergence of design typologies: sports and recreation, performance health, branded environments, and higher education.
"These facilities are truly transformational for our Wildcats and our University," said Northwestern University's Combe Family Vice President for Athletics and Recreation Jim Phillips. "Our state-of-the-art home is now in the heart of campus, alongside classrooms and laboratories and residence halls, allowing more interaction than ever before among our student-athletes and this incomparable Northwestern community."
The facility's site enabled designers to capitalize on light and the unobstructed views of Lake Michigan. The full-sized field in Ryan Fieldhouse looks directly out through glass windows to the lake. A covered terrace outside the Walter Athletics Center dining hall wraps around the eastern and southern facades of the facility visually connecting the Center to the Chicago skyline. The glass-clad south and east sides of the Center overlook the outdoor football practice field and the soccer, lacrosse, and field hockey stadium and onward to the lake.
"Ryan Fieldhouse and the Walter Athletics Center provided an exciting opportunity to take advantage of the spectacular setting overlooking Lake Michigan and bring student-athletes back to the heart of campus to a complex that highlights the interconnectedness of physical fitness, performance, and well-being," said Ralph Johnson, Perkins+Will's global design director
Perkins+Will collaborated on the Northwestern project with associate architect HOK; civil engineer and landscape architect SmithGroup; structural engineer WSP USA; and mechanical engineer AEI Affiliated Engineers.
Bringing Student-Athletes "Home"
Central to the design of the Walter Athletics Center was the university's goal to fully integrate student-athletes into campus life. The new Center brings remote training facilities to the main campus into an efficient building for training, rehabilitating, and studying – all close to residence halls and classroom buildings. From the lower-level basketball courts and jogging track to the fourth floor administration and coaches' offices, the athletes, coaches, and visitors move through levels featuring a variety of support spaces, including sport-specific locker rooms with dedicated team lounges.
"Throughout our design process, we were focused on how the new Center can meet the highest standards of function, access, and interaction to enable Northwestern to recruit and develop the best student->athletes," said Bryan Schabel, Perkins+Will design principal.
Also imperative to the design was creating direct connections between the Walter Athletics Center and the Ryan Fieldhouse to make the combined facilities easily accessible to all. In parallel, it was crucial to design separate, secure entrances to accommodate different users: football and Olympic sports student-athletes, visitors for events, staff, faculty, administration, and coaches.
Re-enforcing the Northwestern Brand
The airy lightness that flows through the building provides a counterpoint to the physical activity taking place inside – and the opportunity to boldly re-enforce the Northwestern brand, elevating the Center to the upper echelons of college sports facilities. Clearly visible through the Walter Athletics Center lobby's glass façade is a three-story LED screen featuring video images of Northwestern's 19 athletic programs.
Northwestern's trademark purple color motif is highlighted throughout the Center on interactive touchscreens, backlit wall panels and overhead lighting accents. Hallways throughout the Center feature wall panels with striking black and white images of athletes in action.
"The approach to the branding throughout the facility is to strike the perfect balance between the power of athleticism and the understated sophistication implicit in Northwestern University's commitment to academic excellence," said Brian Weatherford, Perkins+Will associate principal in the Branded Environments group.
Continued Leadership in Health and Well-Being
The Walter Athletics Center and Ryan Fieldhouse are part of a growing portfolio of Perkins+Will sports, recreation, and entertainment projects that illustrate the firm's focus on holistic human health and well-being. The Northwestern projects also highlight the firm's expertise in education, healthcare, workplace/office interiors, and environmental branding through their successful convergence in the design of a truly multi-disciplinary facility.
"The Walter Athletics Center and Ryan Fieldhouse are game-changing facilities for Northwestern's athletics program," said Jennifer Williams, Pekins+Will senior associate. "The university's vision of a transformational home away from home for their student-athletes is realized through a new kind of architecture – one that enables students to perform at their highest physical and emotional level." Among other Perkins+Will projects that bring together sports performance, healthcare, and branding that have been completed or are under construction: Baylor Scott & White Health Sports Therapy & Research complex, Frisco, Texas; the UCLA Health Training Center, home of the Los Angeles Lakers, Los Angeles, California; the University of Michigan Stephen M. Ross Athletic Center, Ann Arbor, Michigan; the Snyder Center at Phillips Andover Academy, Andover, Massachusetts; the University of South Carolina Center for Health and Well-Being, Columbia, South Carolina; and, the Viking Pavilion at the Peter W. Stott Center at Portland State University, Portland, Oregon.
About Perkins+Will
Perkins+Will is an interdisciplinary, research-based architecture and design firm established in 1935. Founded on the belief that design has the power to transform lives and enhance communities, we collaborate with clients all over the world to create healthy, sustainable places in which to live, learn, work, play, heal, move, and explore. More than 2,200 professionals across over 20 Perkins+Will design studios include some of the brightest minds in architecture, interior design, branded environments, urban design, and landscape architecture. Clients consistently turn to us for our leadership in areas like sustainability, resilience, health and wellness, and mobility. Additionally, our Research Labs innovate design technologies and solutions that result in better, smarter, more competitive built environments. In 2018, were named one of the World's Most Innovative Companies in Architecture by Fast Company, and we are consistently ranked among the world's top design firms. Our family of partner companies includes retail strategy and design consultancy Portland; sustainable transportation planning consultancy Nelson\Nygaard; healthcare technology planning firm Genesis; and luxury hospitality design firm Pierre-Yves Rochon (PYR). For more information, visit www.perkinswill.com.