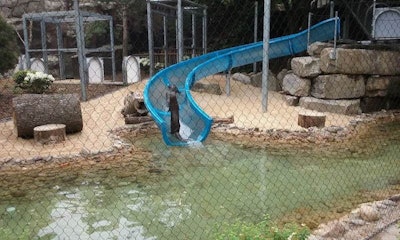 SOURCE: Polin Waterparks
Philadelphia August 15, 2018 - Usually, Polin Waterparks - an award-winning designer of breath-taking, adrenaline-pumping waterslides - is focused on people. The company has built its internationally renowned reputation on catering to millions of clients who are thrilled by its 3,000 waterpark projects in 105 countries around the world. But recently, in Philadelphia, Polin focused on a very different guest: the otters at the Philadelphia Zoo.
Adding to the Zoo360 Experience
The Philadelphia Zoo created its Zoo360 experience several years ago - a series of exploration trails throughout the facility that allow animals to move safely above guests through a network of see-through mesh trail ways.
Working with Polin Waterparks, the zoo has now enhanced this overhead experience with the opening of Water Is Life: Red Panda Pass and Otter Falls, a redesign of its former Carnivore Kingdom exhibit. This new exhibit offers exciting new experiences for the animal residents.
Water Is Life highlights one of the planet's most important resources and showcases its role in shelter, nourishment and play for animals and humans alike. Engaging and interactive water sculptures offer guests changing visual effects, allowing them to interact with, think about and engage with the ways this essential substance.
Water Is Life has two main zones: Red Panda Pass - with a winding maze of overhead bridges and tunnels in which the zoo's red pandas roam and explore - and Otter Falls, a new aquatic version of the Zoo360 experience. The primary feature of Otter Falls is its oversized slide through which the creatures can frolic, swim and slip.
Entertaining humans and furry creatures alike
The new exhibit has proven to be extremely popular with guests who have been visiting in person to watch the otters' angular antics. Guests have also spent hours online watching a video of the animals slipping down their personal waterslide, playing in their pool and sliding in the sunshine. The video now has more than 16,000 views on the zoo's Facebook page.
Polin worked on the project's design and construction alongside longtime partner Aquatics by Westwind (Edmonton, Alberta, Canada).
Aquatics by Westwind Owner Bart Deeg says, "Seeing otters have fun with waterslides is an amazing experience for Philadelphia Zoo guests. This project greatly helps to point out water's importance for all creatures around the world. It has been honor and pleasure being part of this project."
More on Philadelphia Zoo
Animals are on the move like never before at Philadelphia Zoo with Zoo360, a first-in-the-world system of see-through trails passing through treetops, crossing over pathways and connecting habitats, giving animals like amazing big cats, majestic primates and marvelous meerkats the opportunities to travel and explore. Visit new baby western lowland gorillas, giraffes, hippos, white rhino, zebras, red pandas, Amur tigers and more at America's first Zoo. Explore 42-acre Victorian garden and enjoy award-winning exhibits like Key Bank Big Cat Falls, PECO Primate Reserve, McNeil Avian Center and KidZooU, a wildlife academy that offers dynamic displays, rare breeds and hands-on experiences. Philadelphia Zoo is the second-highest ticketed attraction in Philadelphia, one of the region's foremost conservation organizations and home to nearly 1,300 animals, many rare and endangered. By connecting people with wildlife, Philadelphia Zoo creates joyful discovery and inspires action for animals and habitats. The Zoo welcomed more than 1.25 million visitors last year. Philadelphia Zoo is accredited by the Association of Zoos and Aquariums. Philadelphia Zoo is a nonsmoking facility.
More on Polin Waterparks
Polin was founded in Istanbul in 1976 and has since grown into a leading company in the waterparks industry. Today Polin is a world leader in the design, production and installation of waterparks, waterslides and water-play attractions. Polin has completed 3,000 waterpark projects in 105 countries around the world and is the biggest waterslide supplier in Eurasia. Working with a wide variety of clients has helped Polin reach several milestones including installing the first waterparks in many countries and many other award-winning rides at parks with world-renowned reputations.
For more info, visit www.polin.com.tr