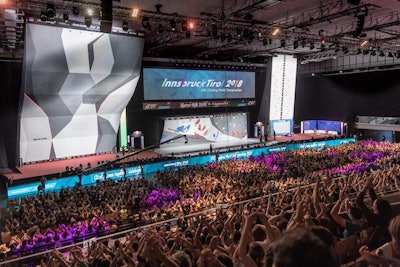 SOURCE: Walltopia
The longest IFSC World Climbing and Paraclimbing Championships, hosted by Austria Climbing, took place in Innsbruck from Sept 6th to 16th. With qualifications happening in Kletterzentrum Innsbruck and finals - in Olympiaworld, Walltopia was a proud supplier of the climbing walls for what was claimed the most successful and spectacular competition in the recent history of climbing.
The completion of Kletterzentrum Innsbruck in 2017 provided the region with one of the best training facilities worldwide with a total of over 5700 sq.m of climbing surface. The results of having that at their disposal was more than obvious during the World Championship with team Austria waking away with 4 medals, 3 out of which Gold. The collaboration between Walltopia and Austria Climbing continued with the creation of the walls that facilitated the finals in Olympiaworld Hall. With competition route setting in mind Walltopia designed walls that combine form, function and aesthetics in a simple way that served a great event. Walltopia team attended the comp to see the product of their hard work including people from the HQ office in Sofia, Bulgaria and representatives from Spain, Italy, Germany, Austria, Japan, Malaysia, UK, France and UAE.
The IFSC Climbing World Championships take place every 2 years but this one marked a new milestone in both competition format and organization. For the first time the event featured Combined finals - the format that will appear in the anticipated Tokyo2020 Olympics. The top 6 men and women faced the challenge of competing in all three disciplines in the order of Speed, Bouldering, Lead, on the newly built Walltopia walls in Olympiawolrd. The former olympic hall enjoyed a full house of cheering people watching the impressive display of athleticism shown by all climbers. The Innsbruck residents proudly watched their local Jacob Schubert take the Gold medal in Combined followed by Adam Ondra (CZE, 2nd) and Jan Hojer (GER, 3rd). Another local - Jessica Pilz also scored well winning Gold in Lead and Bronze in Combined only outperformed by Sol Sa (KOR, 2nd) and Bouldering World Champ Janja Garnbret (SLO, 1st).
Another debut for the Innsbruck 2018 World Championship besides the Combined finals is that a climbing comp was broadcasted on TV for the first time on 3 media - EuroSport, Olympic Channel and NBC: Olympic Channel. Walltopia 3D artists took care to create animated explanatory graphics shown before each comp describing the features of each wall and showcasing all routes in detail. These made it easy for non-climbers to understand the concept, challenge and goals for each discipline and made the new Olympic sport attractive to watch for a broader audience than ever.
With a perfect organization from Austria Climbing, great facility from Walltopia and top performance by all athletes, the Combined discipline and climbing in general proved to be a showdown for skill, power and endurance that is attractive to watch and promises to bring the lights to climbing during Tokyo2020.
About Walltopia: Founded in Bulgaria in 1998, to date Walltopia has built more than 1800 projects in 70+ countries on 6 continents. Walltopia designs, produces and builds climbing walls striving to provide the most up-to-date look and technology. We are committed to continuous improvement and expanding of our portfolio of products and services in order to ensure high quality and exceed client's expectations in everything we do. Walltopia has sales offices in the USA, Canada, Austria, Germany, Russia, Asia Pacific, China. The Head office is located in Sofia, Bulgaria. We have a team of more than 800 professionals and the largest production capacity within the industry. Following our passion for climbing and the natural human craving for play, in 2012 we created a line of climbing based adventure attractions targeting the amusement industry.