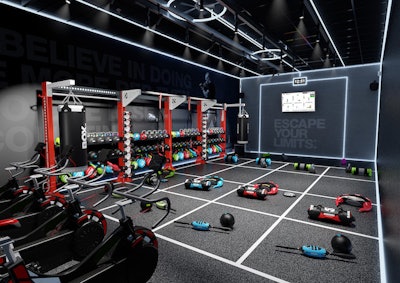 SOURCE: Escape Fitness
October 25, 2018 – Escape's MOVE IT and Myzone have joined forces in the first partnership of its kind to give clubs, boutiques and studios of all sizes an innovative and engaging class – combining wearable digital technology with industry leading programming – to help them boost market share and revenue.
Escape's MOVE IT is a dynamic calorie burning, functional, high intensity interval training program for groups, studios and fitness facilities. It easily scales from one to many users with its six specific zones – lift, move, function, core, run, and recovery – that push users through high-octane, full-body workouts.
Introducing the heart rate tracker Myzone into the MOVE IT mix means members get instant, color-coded feedback on their performance via their phone or a screen in the gym, adding an element of gamification. The more effort put into the MOVE IT workouts, the more Myzone Effort Points the user earns. The MOVE IT/Myzone combination delivers powerful motivation in a group class setting as members instantly see and monitor effort.
Another bonus is that clubs can schedule MOVE IT for their unique needs. They have the ability to design performance specific workouts focusing on upper body, lower body or full body workouts, according to trends or seasonality. The level of creative customization this partnership provides is a competitive advantage as today's tech-savvy exercisers expect novelty, community and challenge – and plus real-time feedback.
Both the 30-minute and 45-minute version of MOVE IT/Myzone works with or without an instructor as it can be streamedon-demand – an especially ideal solution for unmanned facilities, who before would not have had the ability to add programming of this caliber.
"MOVE IT is one of our most popular programs, already available in gyms worldwide. Trainers love it because it's fun, appropriately intense, challenging and effective, yet safe. This new partnership opens it up to a wider variety of facilities," said Rachel Young, head of training and programming, Escape Fitness. "Plus, adding Myzone ups the motivation factor of MOVE IT with its instant, personal feedback. You can go one more rep when you can see your effort on that screen. That's powerful."
The Escape Your Limits Podcast
For entrepreneurs, business owners and influencers to learn through insightful interviews from the most successful people in the industry – the pioneers of personal training, bodybuilding businessmen and masters of movement – the podcast can be found on iTunes: https://itunes.apple.com/gb/podcast/escape-your-limits/id1321349827?mt=2
About Escape Fitness
Founded in 1998 and celebrating its 20-year anniversary, Escape Fitness has built a reputation for product innovation, quality and design while growing and competing through great partnerships in challenging markets worldwide.

Escape has helped improve the bottom lines of over 1000 fitness clubs and key distributors in 80 countries.

Committed to functional training since inception, Escape works with clubs that invest in functional training spaces to deliver the best possible exercise experiences

Escape encourages fitness professionals and clients to 'Escape Your Limits' – a mentality that is the foundation of our every offering.

Escape Fitness works with industry leading brands worldwide, including Equinox, DW Fitness First, Virgin Active, UFC Gyms, Crunch, Nuffield Health, David Lloyd, 1Rebel, 24 Hour Fitness, Marriott, Life Time Fitness, Jatomi and many more.

Escape Fitness is based in Peterborough, UK and operates in over 90 countries.

For more visit:

http://www.escapefitness.com