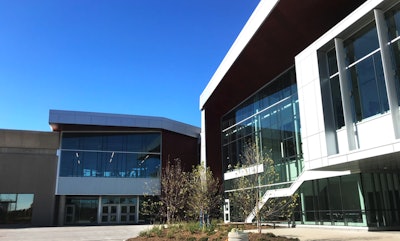 SOURCE: Tillmann Ruth Robinson
Lambton College has undergone its first major expansion in over 25 years. The new Athletic and Fitness Complex and Health and Research Centre tell a clear and elegant story of the emerging role of Lambton College as an essential community asset in connecting different ideas, perspectives and experiences. Visible from a major thoroughfare, the Athletic and Fitness Complex provides an opportunity for Lambton College to: renew their athletic environments; enhance social environments; recruit the best in a competitive market; and connect to community members, academic partners, and athletes around the world.
Thoughtfully integrated into the existing campus, the new construction communicates an excitement about the future. Building on this vision, the Athletic & Fitness Complex and combined Health & Research Centre provide a dynamic landscape for learning, wellness, creation and collaboration, fueling the contagious energy that inspires students, staff and faculty. Design strategies including transparent walls between learning, athletic and community spaces encourages a culture of participation.
Sustainable principles influenced building material selection and design of major components. For example, natural ventilation – usually not as effective in buildings the height of the Athletic & Fitness Complex and Health & Research Building – were a practical solution given the new 67-foot tall glass tower. This element augments mechanical systems by moving air from the entrance atrium up through the tower. A glowing beacon of the campus, the tower not only supports sustainability goals, it is a celebration of the year during which the campus was founded.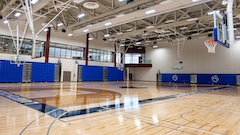 The expansion includes: a double gymnasium, with a varsity court; 1250 bleachers on three sides of the varsity court; change rooms; varsity change rooms; a fitness facility; therapeutic recreation space; multi-purpose space; a 125 seat lecture theatre/symposium space; active learning classrooms for 48 students and 80 students; research space; a massage clinic; paramedic simulation labs; hospital and retail pharmacy labs; nursing simulation suites; collaborative meeting space; and student social space.
Referencing these two new projects on Lambton's Sarnia campus, President & CEO of the college, Judith Morris states:
"aTRR has designed a number of buildings or renovated spaces for Lambton College: our Public Safety Centre of Excellence, our Centre of Excellence in Energy and Bio-Industrial Technology, and their crowning achievement to date a 40,000 sq. ft. Athletics and Fitness Complex and 60,000 sq. ft. NOVA Chemicals Health & Research Centre. While all of the buildings that were designed by aTRR are both functional and architecturally beautiful, the latter two buildings referenced will forever change the landscape of Lambton College. They are two of the most attractive, open and inviting buildings in the Ontario College System. However, they are not just stunning buildings, they were built with the input of several user groups, to ensure their functionality."
The Athletics & Fitness Complex was revealed at the Grand Opening on Thursday, October 18th, at 1457 London Road, Sarnia. The Health & Research Centre is expected to be complete by April 2019.