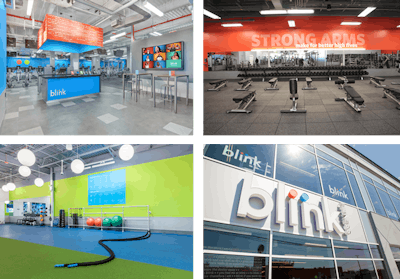 SOURCE: Blink Fitness
NEW YORK, NY – Blazing a new trail for body positivity in Massachusetts, Blink Fitness and its Feel Good Experience® opened in Beverly Thursday, November 29th! Blink Fitness Beverly marks the first of seven gyms slated to open in the Boston metro area, all led by experienced and passionate Boston native Steve Stabile.
"Blink's premium gym experience and accessible price point is much needed in the Beverly community and will cater to all residents. We are thrilled to open our doors as the first Blink in Boston, and look forward to continuing to grow throughout the metro area" said Stabile.
Blink Fitness creates a special experience for its members, based on its Mood Above Muscle™ philosophy, which celebrates the positive feelings you get from exercise rather than just the physical benefits. This comes to life in each gym through a commitment to providing contemporary and colorful design, best-in-class customer service, and relentless focus on cleanliness, energizing music, and confidence-boosting training programs.
A Boston local, Stabile is passionate about giving back and has already gotten involved with his community. Prior to his gym opening, Blink Fitness Beverly sponsored the Pete Frates 5K, along with participating in various smaller community events and fundraisers. In celebration of the grand opening, Blink Fitness Beverly donated 50 memberships to Beverly Bootstraps, a local nonprofit that is dedicated to providing emergency and long-term assistance to families in need.
No stranger to entrepreneurship and wellness, Stabile has been an active businessman for nearly 30 years, first launching his own businesses and then entering the franchising world in 2005 with Fitness Together and Elements Massage. He opened the first franchise location for the massage concept and won numerous awards from the brand, including the Top Franchise of the Year, Area Director of the Year, and most recently, their first Legacy Award.
The new Blink facility boasts a broad offering of top-of-the-line strength equipment that includes free weights, plates, and machines for upper body, lower body, and core. Additionally, the facility offers a wide variety of premium cardio machines and a multi-use space for additional exercises, stretching, and functional training. As a gym that promises to provide a premium experience to all who join, memberships are available for as low as $15 per month with a free start-up personal training session.
"We're excited for Steve to bring the first Blink Fitness to the Boston metro area. The passion he has for for his community, matched by the tremendous franchising success he's enjoyed in the wellness industry, makes him a great partner to represent our brand in this new market. We're confident that Steve shares our values and vision for providing the very best member experience as we continue to focus on expanding nationally," said CEO Todd Magazine.
Since its inception in 2011, Blink Fitness has opened nearly 80 gym locations across New York, New Jersey, Pennsylvania, and California, and has a number of additional corporate- and franchisee-owned locations in various stages of development in major U.S. markets. The unique fitness brand has plans to enter additional markets, including Georgia, Illinois, Michigan, and Virginia, expects to surpass the 300-unit mark over the next five years.
About Blink Fitness
Through its revolutionary philosophy of Mood Above Muscle™, Blink Fitness, a premium-quality, value-based fitness franchise celebrates the positive feeling you get from exercise, not just the physical benefits. Blink Fitness has been ranked by Inc. magazine's Inc. 500|5000 list, and recognized as one of the top health clubs of 2018 by Club Industry and best budget chain by Men's Health. With more than 90 locations open or in development across eight states, Blink Fitness has franchise opportunities available nationwide with a focus on the following markets: Atlanta, Phoenix, Seattle, Portland, Albuquerque, Louisville, St. Louis, Kansas City and cities throughout North and South Carolina.
For more information about Blink, visit blinkfitness.com. Franchising details are available on blinkfranchising.com.
Connect with Blink
Instagram: @BlinkFitness
Facebook: BlinkFitness
Twitter: @BlinkFitness