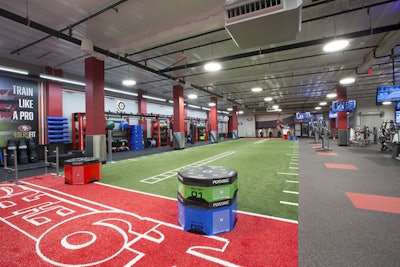 SOURCE: Escape Fitness
February 13, 2019 –The new 49ers Fit 36,500 square foot gym recently opened including the largest, heaviest, most functional Escape custom frame installed anywhere in the US to date.
Providing an exceptional gym experience to San Francisco 49ers fans, Escape created a 62-foot custom functional fitness frame with BOA (Boxing Octagon Attachment) boxing rail system for the San Jose based gym. The stand-out piece sets the club apart and engages members by providing plenty of visual and practical appeal while facilitating large team training programs.
The inspirational facility includes a 100-foot turf area for functional and group training, as well as space for cardio and strength training, yoga and cycling plus group fitness studios, a recovery lounge, kids room and more.
Additionally, 49ers Fit members will have access to popular Escape functional fitness tools including Plyosoft Boxes, Multiplyos, TIYRs, Bulgarian Bags, and STEP and RISERS.
"The Fit brand stands for quality and consistency. With the new 49ers Fit brand concept, it's important the club provides that same high quality experience fans associate with the team itself," said Matthew Januszek, co-founder, Escape Fitness. "Every piece of equipment they offer has to deliver. 49ers Fit was looking for a frame solution that could work across all the different group classes and programs they offer. They needed boxing bags to move in and out of place quickly and easily for classes and programs, and then lock back in place to be sturdy for PT. Our robust BOA Rail and Boxing Bag System outperformed all of the others on the market and is the quality fans expect from the 49ers."
About 49ers Fit
Escape Fitness worked through M6 Football on 49ers Fit. For information, visit http://www.49erfit.com.
The Escape Your Limits Podcast
For entrepreneurs, business owners and influencers to learn through insightful interviews from the most successful people in the industry – the pioneers of personal training, bodybuilding businessmen and masters of movement – the podcast can be found on iTunes: https://itunes.apple.com/gb/podcast/escape-your-limits/id1321349827?mt=2
About Escape Fitness
Founded in 1998, Escape Fitness has built a reputation for product innovation, quality and design while growing and competing through great partnerships in challenging markets worldwide.

Escape has helped improve the bottom lines of over 1000 fitness clubs and key distributors in 80 countries.

Committed to functional training since inception, Escape works with clubs that invest in functional training spaces to deliver the best possible exercise experiences

Escape encourages fitness professionals and clients to 'Escape Your Limits' – a mentality that is the foundation of our every offering.

Escape Fitness works with industry leading brands worldwide, including Equinox, DW Fitness First, Virgin Active, UFC Gyms, Crunch, Nuffield Health, David Lloyd, 1Rebel, 24 Hour Fitness, Marriott, Life Time Fitness, Jatomi and many more.

Escape Fitness is based in Peterborough, UK and operates in over 90 countries.

For more visit:

http://www.escapefitness.com