SOURCES: PGA TOUR, Technogym
TOUR upgrades facilities to meet the growing demand of its world-class athletes
WEST PALM BEACH, FLORIDA – The PGA TOUR today unveiled the two new state-of-the-art mobile fitness centers that will travel the PGA TOUR and PGA TOUR Champions and bring state-of-the-art fitness equipment and care to its athletes throughout the season. The presentation was led by PGA TOUR Commissioner Jay Monahan and players Brooks Koepka, Alex Noren and Jhonattan Vegas at The Honda Classic, which begins Thursday at PGA National Resort & Spa.
Each of the new fitness centers will be equipped with state-of-the-art equipment and will increase by over 200 square feet from the previous facilities. The additional space will provide players with a wider variety of fitness equipment as well as more open space for functional movement exercise.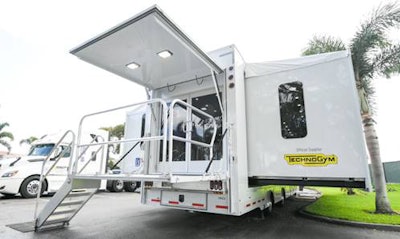 "Since the original fitness centers were introduced on TOUR more than 30 years ago, we have seen how fitness has advanced our players' performance and extended their careers," said Monahan. "Today's unveiling of a new fitness center is another landmark moment in the growth of the PGA TOUR and our ongoing efforts to best serve our members. As our sport grows, so do the expectations and the preparation needed to compete at the world-class level we see every week."
The fitness centers are part of the Player Performance Centers that travel to 62 events between the PGA TOUR and PGA TOUR Champions each year. The Centers are made up of two sets of semi-trailers (four total) that navigate the domestic United States and Canada each year, representing a considerable investment with a goal of providing a consistent and trusted training center for the players. In addition to two fitness centers for performance and training, players have access to two wellness centers dedicated to therapy and recovery. Each unit logs more than 24,000 miles annually.
As an Official Supplier of the PGA TOUR Player Performance Centers, Technogym will supply the fitness centers with state-of-the-art sports performance equipment including two Technogym SKILLRUN Treadmills and SKILLTOOLS. SKILLTOOLS are a variety of performance tools that create a wide range of training modalities for the players, for total body mobility, stability, and power development within their workouts, before a round of golf, or for recovery after a round of golf.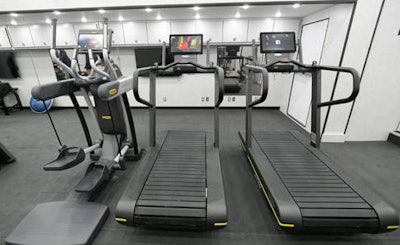 "Technogym has been training champions for the past 30 years, including our legacy as the official equipment supplier to the past seven Olympic Games," said Nerio Alessandri, President and Founder of Technogym. "We are very proud to have been chosen by PGA TOUR to provide world class sports performance equipment and solutions for the elite TOUR players. This partnership represents a strong validation of our ongoing investment in R&D for our products, innovation and quality standards."
The fitness centers also come complete with refrigerators, Smart TVs with satellite service, Bluetooth surround sound, high speed Wifi and workout shoes and clothing for all players.

The original PGA TOUR Player Performance Centers were unveiled in 1985 under the direction of former PGA TOUR Commissioner Deane Beman and traveled to 32 events in that inaugural season. In 1986, the Player Performance Centers were introduced on PGA TOUR Champions, a tour of professional golfers age 50 and older, including 32 members of the World Golf Hall of Fame. The TOUR partnered with the late renowned orthopedic surgeon Dr. Frank Jobe, who served as the lead Medical Consultant and oversaw the implementation of the landmark program.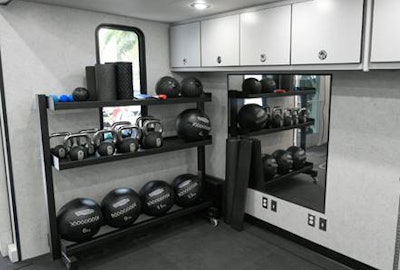 Under the guidance of former PGA TOUR Commissioner Tim Finchem, the fitness centers that are being replaced were unveiled on the PGA TOUR and PGA TOUR Champions in 2001, while the wellness centers were rolled out in 2000.
"We are excited about the next generation of fitness services that we will be able to provide for our athletes on the PGA TOUR and PGA TOUR Champions," said Andy Levinson, PGA TOUR Senior Vice President Tournament Administration. "These new and improved facilities coupled with our staff of world-class athletic trainers, physical therapists and chiropractors will allow us to meet the increasing demand of our athletes."
The new PGA TOUR Champions mobile fitness center will make its first appearance at the Rapiscan Systems Classic in Biloxi, Mississippi, on March 26. At the end of 2019, the TOUR plans to unveil new mobile wellness centers to complete the modernization of the Players Performance Centers on both the PGA TOUR and PGA TOUR Champions.
ABOUT PGA TOUR
By showcasing golf's greatest players, the PGA TOUR engages, inspires and positively impacts our fans, partners and communities worldwide.
The PGA TOUR co-sanctions more than 130 tournaments on the PGA TOUR, PGA TOUR Champions, Web.com Tour, PGA TOUR Latinoamérica, Mackenzie Tour-PGA TOUR Canada and PGA TOUR Series-China. Members on the PGA TOUR represent the world's best players, hailing from 25 countries (88 members are from outside the United States). Worldwide, PGA TOUR tournaments are broadcast to 226 countries and territories in 23 languages. Virtually all tournaments are organized as non-profit organizations to maximize charitable giving. In 2018, tournaments across all Tours generated a record $190 million for local and national charitable organizations, bringing the all-time total to $2.84 billion.
The PGA TOUR's web site is PGATOUR.COM, the No. 1 site in golf, and the organization is headquartered in Ponte Vedra Beach, Florida.

About Technogym
Founded in 1983, Technogym is the world's leading international supplier of technology and design driven products and services in the Wellness and Fitness industry. Technogym provides a complete range of cardio, strength and functional equipment alongside a digital cloud-based platform allowing consumers to connect with their personal wellness experience anywhere, both on the equipment and via mobile when outdoors. With over 2,000 employees and 14 branches globally, Technogym is present in over 100 countries. More than 80,000 Wellness centers in the world are equipped with Technogym and 40 million users train every day on Technogym. Technogym was the official supplier for seven of the last editions of the Olympic Games: Sydney 2000, Athens 2004, Turin 2006, Beijing 2008, London 2012, Rio 2016 and PyeongChang 2018.