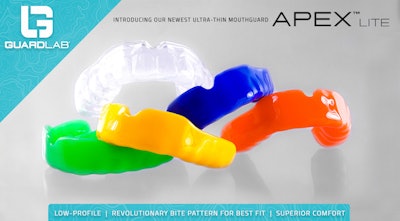 SOURCE: GuardLab®
NEW YORK, NY | March 1, 2019 – GuardLab®, a custom mouthguard brand known for using innovative 3D digital scanning and 3D printing technology announces the first ultra-thin semi-custom mouthguard for their APEXTM Collection, named APEXTM Lite.
Designed as ultra-thin, low-profile and made from soft, yet protective and absorbent dental grade materials - the APEXTM Lite is characterized as simple, pure and effective. It is ideal for light contact or helmet sports, including basketball, wrestling, hockey, football, soccer, lacrosse and more. The APEXTM Collection now includes 2 thicknesses (APEXTM and APEXTM Lite) and a variety of colors and designs.
The APEXTM line of semi-custom mouthguards by GuardLab® are an innovative solution to the self-fit market for kids or adults. We studied thousands of digital 3D scans to find the optimal shape and size of a properly fitted mouthguard, and used these findings to create 3 universal sizes and a patent-pending pre-indented bite pattern. All APEXTM Guards are recognizable from our distinctive 3D geometric bite pattern found inside of every APEXTM Guard, which produces a quicker and more precise fitting with less material movement.
"We carefully listened to our customers and we are excited to offer an ultra-thin, protective mouthguard that athletes can easily self-fit at home. The APEXTM Lite is specifically geared to the modern athlete who wants essential protection and a clean aesthetic without surrendering comfort," said GuardLab CEO, Aidan Butler.
GuardLab continues to produce the most accurate fitting custom-fit mouthguards, using advanced 3D technology and a proprietary Alignment Repositioning Cushion (ARCTM) that helps to provide better head balance, enhanced oxygenation, and lessened TMJ tension during competition and training.
A full list of Certified GuardLab 3D Locations and products are available on guardlab.com. Customers can also purchase APEXTM and APEXTM Lite variations on Amazon.com and at select partner retailers, team dealers and gyms.
About GuardLab, Inc.
GuardLab is a sports technology company changing the way you protect your teeth. We use 3D technology to create premium products that are accurate and comfortable, while being the most scientifically advanced – all at a fraction of what you would pay at the dentist, and available from the comfort of your home. GuardLab has partners and clients across all major professional and collegiate sports leagues including the NFL, NBA, MLB, NHL, MLL, UFC and NCAA - including the multi-time Super Bowl Champion New England Patriots, current Super Bowl Champion Philadelphia Eagles, the NCAA National Champion UNC Men's Basketball, as well as the Tennessee Titans, Toronto Blue Jays, Toronto Argonauts, Toronto Raptors, Denver Nuggets, AFL League and more. Follow GuardLab on Facebook, Twitter and Instagram @guardlab