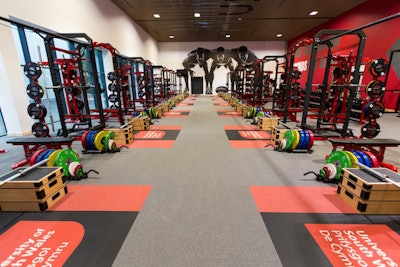 SOURCE: PLAE
WOODSTOCK, Ga. – April 9, 2019 – To meet growing demand and expand its international footprint, PLAE has established a new division in the United Kingdom, PLAE Europa. Located in London and led by Jake Saunders, director of UK sales, the new office will represent PLAE throughout Europe. The international division currently has a business manager, operations director, estimator, two project managers and three sales directors operating direct in regions outside of the United States.
"With the continued success of PLAE's Australia division, we could see that the UK was an opportunity to build on the foundations of our brand as a global presence by operating direct and providing our customers with a local team," said Shane Goooneratne, vice president of international business at PLAE.
To kick off the launch of the new division, PLAE is hosting a Lab for strength & conditioning coaches on April 13 at Loughborough University in Loughborough, UK. UK locals Ben Rosenblatt and Martin Evans from the English Football Association are presenting an international perspective on physical preparation in football.
Also on the full-day agenda are Jeremy Sheppard from the Canadian Sports Institute Pacific speaking about concepts in vertical jump; Liam Hennessey from Setanta College discussing the creation and evolution of Irish rugby player development; and Fergus Connolly highlighting performance leadership.
Advance registration for the Loughborough Lab is available through April 12, and PLAE Prosubscribers can watch the event via live stream on the app. CEUS are provided to attendees.
Broadening UK Footprint
Also at Loughborough University, which has been ranked the No. 1 university for sport globally, PLAE just completed equipping the Powerbase facility with 750 square meters of its performance flooring, including Achieve 18mm with 15 inlaid platforms with water jet logos, two sections of Attack turf and a three-lane track using Ignite. After extensive product research and testing, university staff chose PLAE to deliver the best experience to its elite athletes and squads, international professional athletes who train there and the entire student body.
In addition, the University of South Wales in Cardiff, Wales, recently selected PLAE for its training centre, including 200 square meters of Achieve 18mm, with 12 inlaid platforms. Elite athletes, professional international teams, students and staff utilize the premium facility.
About PLAE
PLAE is redefining athletic flooring as a foundational component of every training space, creating active solutions that equip people to achieve their best selves. Pushing boundaries, pursuing innovation and harnessing technology and design are daily passions at PLAE. Boldly committed to raising the bar, PLAE drives powerful performance.