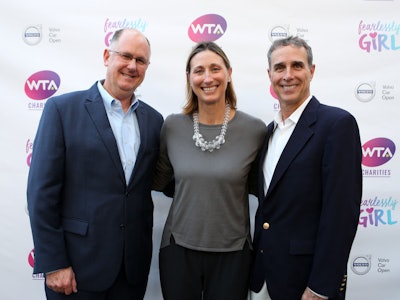 April 10, 2019 — The WTA (Women's Tennis Association) and PTR (Professional Tennis Registry) recently signed an agreement designating PTR as an Official Partner of the WTA Coach Program. For several years, PTR and WTA have worked closely together to facilitate formal coaching pathways for tour-level players and their coaches, and moving this partnership forward will solidify cooperation between the two global organizations.
Established in January 2017, the WTA Coach Program has been designed to professionalize, standardize, and recognize the important role of coaching on the WTA Tour. Under the new agreement, WTA and PTR will partner on a number of high-impact community outreach and educational projects, including certification through the WTA Tour Coach Program — with a particular focus on WTA Alumnae, or former tour players.
"The WTA Coach Program highlights and supports the vital contributions coaches make to the success of the Tour," said Steve Simon, CEO, and Chairman of the WTA. "Coaching plays a significant role in sport and at the same time offers a very distinct career opportunity for elite tennis players as they transition away from the circuit. I am particularly excited by the potential for the WTA's partnership with PTR to see an increase in the number of certified and licensed women tennis coaches worldwide."
"With the WTA's tremendous reputation, impressive board and staff, and their extensive global reach, this is an ideal alliance for PTR," said Dan Santorum, CEO of PTR. "PTR places a premium on partnering with constructive, progressive, and supportive organizations like the WTA. We are extremely excited to work together with the WTA on increasing the number of women that make coaching a career."
About the WTA
Founded on the principle of equal opportunity for women in sports by Billie Jean King in 1973, the WTA is the global leader in women's professional sport with more than 1,800 players representing 85 nations competing for a record $164 million in prize money. In 2018, the WTA was watched by a record-breaking global audience of 600 million. The 2019 WTA competitive season includes 55 events and four Grand Slams in 29 countries, culminating with the WTA Finals Shenzhen, offering an unprecedented $14 million total prize purse and honoring the season's top singles and doubles players. Further information on the WTA can be found at www.wtatennis.com.
About PTR
PTR is the largest global organization of tennis teaching professionals with more than 16,400 members in 125 countries. It has the greatest percentage of multicultural and women members of any such organization. PTR is dedicated to inspiring, educating, certifying and serving tennis teachers and coaches in order to grow the game. www.ptrtennis.org