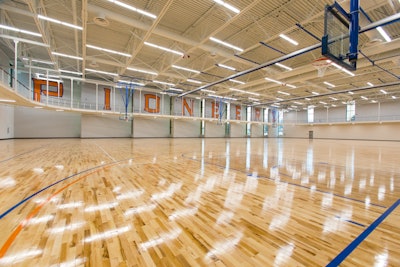 SOURCE: Kahler Slater
PLATTEVILLE, Wisconsin – The expanded and renovated Williams Fieldhouse at the University of Wisconsin-Platteville has opened for use by students, faculty and staff.
Upgrades include 55,925 square feet of new space and an additional 2,681 square feet of remodeled space to accommodate UW-Platteville's increasing enrollment and support the university's club sports, intramural sports, open recreation and varsity sports programs and the physical education department.
Kahler Slater was the architecture firm of record. Kraemer Brothers was the general contractor.
Improvements included the addition of three multi-purpose athletic courts and related support spaces; expansion of the fitness center's cardiovascular, weight training and exercise areas; a new athletic training suite for the 16-sport Pioneer athletic department; and office spaces. A "saw-tooth" wall allows indirect natural light into the gymnasium, eliminating distracting glare on the courts while also giving passersby on the major campus path outside views of the activity taking place inside.
A new outdoor multi-use synthetic-turf athletic field with lighting was also added.
"The fieldhouse expansion will benefit our entire student body, our faculty and staff and our community," said Chancellor Dennis J. Shields. "I am a strong believer in a healthy body and healthy mind concept. This facility will enhance both the body and mind."
The project was entirely funded with student segregated fees, as supported in a 2013 student body referendum.
Built in 1961, the fieldhouse was expanded in 1989 and again in 2010. UW-Platteville's enrollment has grown significantly since those renovations – up approximately 2,200 since 1989 and nearly 400 just since 2010.
Other project partners included Ring & DuChateau (mechanical engineering, electrical engineering, plumbing, fire protection), Oneida Total Integrated Enterprises (structural engineering), Rettler Corporation (civil and sports field design) and Professional Audio Designs Inc. (information technology/audiovisual design).
About Kahler Slater
Kahler Slater creates environments that enrich lives and achieve powerful results. Through architecture, interior design, strategic advisory and environmental branding, Kahler Slater leverages design to help its clients reach their strategic goals for advancing their organizations. The firm uses a Performance-Based Design process that is grounded in research to ensure that it designs for change. With clients around the United States, Canada and Singapore, Kahler Slater's team includes marketplace experts in the health care, higher education, corporate office, living environments, hospitality, and sports and wellness sectors. Follow Kahler Slater online at kahlerslater.com, on Facebook, and on Twitter (@KahlerSlater).