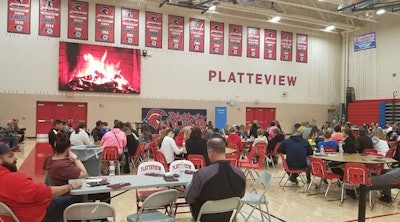 SOURCE: Daktronics
The new technology benefits students in multiple ways
BROOKINGS, S.D. – Dec. 19, 2019 – Daktronics (NASDAQ-DAKT) of Brookings, South Dakota, recently installed two LED video displays featuring 3.9-millimeter line spacing in the gymnasium of Platteview High School (PHS) in Springfield, Nebraska. Each display measures 10 feet high by 17 feet wide. PHS is one of the first schools in the nation to install the new Daktronics DVN-3000 indoor video display series. The project was the result of partnerships with the school, Daktronics and Facebook.
"We installed two boards because we saw the Sioux Falls Lincoln facility and really liked that," explains Springfield Platteview Superintendent Brett Richards. "It fits with our school board's strategic plan. We also had a commitment from Facebook to contribute to the project, so we knew we could do it. They just built a huge data center in our district, so it was a unique situation."
The DVN-3000 series features a darker display face and increased picture contrast to produce richer colors and superior image detail.
Providing student opportunities
It's Daktronics' goal to empower schools to deliver the highest level of sporting entertainment and education to their communities through trendsetting, revenue-generating video and audio systems while providing learning experiences for students. Daktronics Video Product Manager Chris Westerman explains that new lower pricing for 3.9-millimeter and 5.9-millimeter displays makes video products affordable to more and more customers.
"The real drive toward indoor video products is allowing customers the ability to use the display all day long," saysWesterman. "It's not just a game-time display anymore. Customers are using displays for PE class, graduation, pep rallies and in the classroom."
According to Principal and Athletics Director Ron Alexander, education is part of the overall purpose of the video boards, so PHS intends to implement their use as part of the curriculum.
"We are a technology district," Richards says, "and we want to compete with larger Metro facilities. That's why we went with a 3.9-millimeter pixel pitch and the size that we did. A big focus is that our kids are making all the content," he explains. "We had our first home game last night. The students ran the board and created content. The kids did well. We have kids from a digital media course, part of an internship program and a technology club. Next fall, we will implement the Daktronics curriculum."
Richards adds that the curriculum was one of the reasons PHS chose to work with Daktronics. "Other companies don't have that," he says.
Daktronics Market Manager for High School Parks and Rec Kyle Sydow says product quality and the curriculum are part of the company vision. "We are seeing more high schools install Daktronics video displays for their students to run because Daktronics displays are at most universities and professional stadiums. It opens doors for these kids to use their skills at the next level."
Building partnerships
PHS was looking seriously at another company when their Daktronics sales representative talked them into visiting the worldwide headquarters in Brookings, South Dakota.
"That was a big deal. We were treated like the Atlanta Falcons," says Richards. "We left impressed with the history of the company and knew they'd be around. The Reliability Lab was amazing. They talked about how they get paid to break things."
Alexander adds, "We were looking for a partner in this. We got that from Daktronics. We talked about who they are as a company, and they will be with us for the whole journey, not just the installation."
"We could see that Daktronics had a better product than anyone else," says Richards. "The pricing, the quality of the board with a 3.9-millimeter pixel pitch versus a 5.9-millimeter pixel pitch. There's no annual fee for the software. Daktronics also has the curriculum."
Adding to the activities budget
With the help of Daktronics Sports Marketing, PHS will start selling advertising on their displays this spring for fall sports. Because the boards are paid for, all advertising dollars will go straight back into helping students.
Richards explains, "Now all funding from sponsors will go to athletics and activities. It's already self-supportive, so we can buy uniforms and equipment, taking programs to higher levels."
"Also, we can be less reliant on fundraising on a daily basis," adds Alexander.
About Daktronics
Daktronics helps its customers to impact their audiences throughout the world with large-format LED video displays, message displays, scoreboards, digital billboards, audio systems and control systems in sport, business and transportation applications. Founded in 1968 as a USA-based manufacturing company, Daktronics has grown into the world leader in audiovisual systems and implementation with offices around the globe. Discover more at www.daktronics.com.