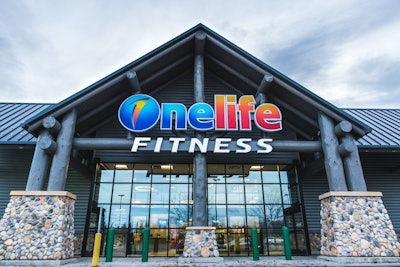 SOURCE: US Fitness
McLean, VA (January 2020) – Onelife Fitness announces the opening of its newest club in Winchester, Virginia on Sunday, January 12. Located in the former Gander Mountain store at 251 Commonwealth Court, the 60,000 square foot club will feature an impressive array of state-of-the-art equipment, programs and amenities, including the following:
Expansive 3,000+ sq. ft. Kids Club
More than 100 boutique studio-quality classes per week included in the membership rate
State-of-the-art spin studio with Coach by Color bikes
Elegant Mind/Body studio featuring hot yoga classes, barre and more
Top-of-the-line cardio and strength equipment
Indoor and outdoor functional turf training areas
Onelife Cardio Cinema
Indoor saltwater pool
Indoor basketball court
Explosive Performance athlete training program
Relax & Recover with HydroMassage
Luxurious spa-style locker rooms
The Grand Opening & Ribbon Cutting party will be held Thursday, January 23 from 5-8pm with music, refreshments, photo booth, class demos, face painting and activities for the kids and prizes for all. The event is open to the public.
"At Onelife, we've experienced rapid growth over the past few years while working to meet rising demand for top of the line health and fitness clubs that offer high amenities at an affordable price point," said Kirk and John Galiani, co-Chairmen of US Fitness. "We are thrilled to bring the ultimate fitness experience to the Winchester area, and our team is so excited to provide our members with all the tools they need to succeed in their health and fitness journey."
About US Fitness
US Fitness' origins began with a passion to develop the most modern and inclusive health club company in the country. The Galiani Brothers, John Cristiano and their management team have grown US Fitness to be one of the largest health club companies in the US. US Fitness operates primarily under the Onelife Fitness brand – large format fitness clubs designed to offer unparalleled value to their members, providing access to over 50,000 square feet of the latest fitness equipment, cutting edge group and personal training programs, full length pools, basketball courts, and spa facilities. US Fitness' proprietary fitness offerings include APEX HIIT, Spark Cycling and BarreOne, which deliver the experience and performance of leading boutique fitness studios at significantly discounted pricing. The company also operates Sport & Health – high-end health clubs with state-of-the-art fitness facilities and luxurious day spas in the Washington, DC Metro Market – and is an area development franchisee of Crunch Fitness.