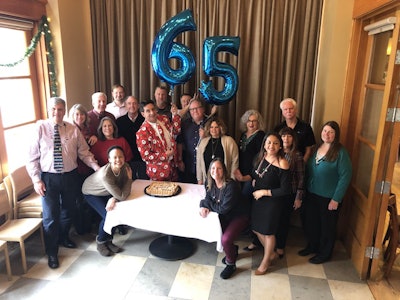 SOURCE: Lincoln Aquatics
Lincoln Aquatics, the leading supplier of Commercial Swimming Pool Equipment, Aquatic Supplies, and Chemicals, recently celebrated their 65th Anniversary!
Originally founded in 1954 by William Luecker, in San Francisco, California. The company started from humble beginnings and now is supported nationally by over 340 distribution centers. The company's focus has been their dedicated support of the customers who operate Commercial swimming pool facilities across the country, now for 65 years!
Lincoln Aquatics marked their 65th Anniversary with a special "65 Days of Summer" promotion. Each week during the summer season, they featured special purchasing opportunities, on a variety of products for their customers, to help celebrate their Anniversary. For the promotion, they highlighted special pricing on 65 individual products, over the 13 weeks of Summer, to help celebrate their Anniversary.
This week, Lincoln Aquatics and their staff celebrated their milestone by hosting a special Anniversary gathering in Walnut Creek, California!
The Lincoln Aquatics team looks forward to being the "Supplier of Choice", for Commercial operators, for the next 65 Years ! You can contact Lincoln Aquatics at (800) 223-5450 or visit us on the web at www.lincolnaquatics.com