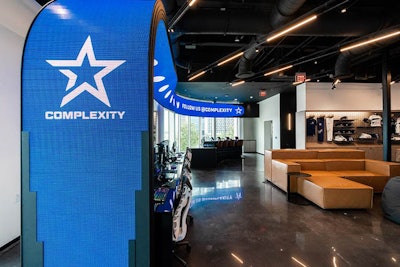 SOURCE: Daktronics
BROOKINGS, S.D. – Mar. 12, 2020 – Daktronics (NASDAQ-DAKT) of Brookings, South Dakota, collaborated with Design Communications Limited (DCL) of Boston, Massachusetts, who engineered, managed, fabricated and installed the dynamic media project using narrow Daktronics LED displays to form a double-sided, twisting LED media feature that serves as the centerpiece for Complexity Gaming's Esports training venue in Frisco, Texas.
"DCL has relied on Daktronics as one of its preferred US-based LED display providers," says Jeff Grantz, Director of Creative Technologies at DCL. "This project, although a complex engineering feat, ended up being a perfect application for Daktronics' 3-inch tall, 4-millimeter and 10-millimeter LED modules. We were able to collaborate with their engineering team to resolve a tightly faceted curve that conforms to the various twists and turns of the ribbon while integrating the necessary support structure, power supplies and controllers within a 7-inch deep custom cabinet, fabricated by DCL. Complexity was one project that certainly lived up to its name.
The concept was designed by ICRAVE NY and they turned to DCL and Daktronics to solve the challenge of creating a high-resolution 4-millimeter LED digital solution that appears to float within the architectural environment. This unique design challenge was overcome through deep engineering collaboration of Daktronics engineering team with DCL's experts in precision design, fabrication and creative installation methods.
The creative use of 4-millimeter quarter-module LED building blocks produced the curved, twisting features facing the interior of the space. This was combined with high-brightness 10-millimeter LED technology on the backside of the curve to optimize resolution and brightness for the various audiences both inside and outside the facility.
"We are excited to work with creative designers, technology integrators and fabrication partners that push the boundaries of the perception of what digital media can be in the entertainment industry," said Jeff Everson, Daktronics spectaculars applications engineer.
The largest section facing inward features 4-millimeter line spacing and measures 3 feet high by 53 feet long. The smaller outward-facing section also features 4-millimeter line spacing and measures 3 feet high by 11.5 feet long. The larger outward-facing section features 10-millimeter line spacing and measures 3 feet high by 41.5 feet long.
These three sections combine to form a unique, double-sided display capable of showing branding, graphics and artistic content above the gaming area and twisting to the floor on one end.
"Esports is an emerging market with plenty of opportunity for unique indoor displays and applications," said Steve Bayer, Daktronics special projects director. "We're well-positioned with our product family including narrow pixel pitch technology to deliver solutions for these unique applications. This is a fantastic project that highlights our design and engineering capabilities in support of our partners at DCL and we're proud to be a part of it."
The outward-facing section can be seen through the windows by passersby while the inside can show the same or differing content to appeal to a different audience based on the time of day and event needs.
About DCL
DCL (Design Communications Ltd.) is an award-winning manufacturer of specialty architectural elements, custom signage, and integrated digital media for the built environment. With people, experience, and knowledge, DCL partners with architects and designers to provide innovative solutions for notable projects worldwide. Our commitment to our client's vision, the design process, and consistently delivering an unparalleled product and experience is our greatest success. To learn more about our custom manufacturing, fabrication and installation services, visit http://www.designcommunicationsltd.com.
About Daktronics
Daktronics helps its customers to impact their audiences throughout the world with large-format LED video displays, message displays, scoreboards, digital billboards, audio systems and control systems in sport, business and transportation applications. Founded in 1968 as a USA-based manufacturing company, Daktronics has grown into the world leader in audiovisual systems and implementation with offices around the globe. Discover more at www.daktronics.com.