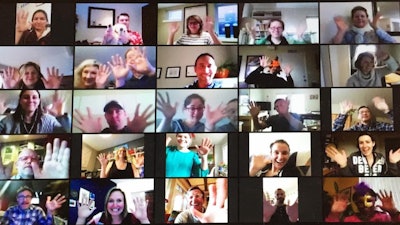 SOURCE: Barker Rinker Seacat Architecture
March 31, 2020 | We know you all are getting bombarded with news, articles, alerts, and emails regarding COVID-19. Like many others, we have adjusted to allow for work from home, that's not the only adjustment we're seeing.
We know it's an unnerving time and everyone is anxious. We also know that out of all hardships come strength. To build up some strength, we're sharing some of the positive consequences that we've witnessed over the past two weeks.
Our employees are more vigilant, stronger, and more connected than we ever imagined. Our extroverts are reaching out to our introverts (more surprisingly) our introverts are reaching out to our extroverts! And we're all getting on an all-company video chat twice a day. We don't do it to catch up on to-do lists. We do it to check-in with each other, person-to-person.
Our passion is pushing us through. We noticed in our clients and employees; everyone is channeling their passion into the energy required to keep their projects running. It's inspiring and oh-so motivating to watch.
We are taking notes from our clients. We know you are running on emergency protocols and making decisions you never thought you would face. We're listening to our clients to take note of what actions your community has taken, were they successful and how can we benefit to learn from each other?
How can we implement best practices of virus containment into future buildings? We're asking big questions and while the answer might not be clear right now, we're tracking everything happening around COVID-19 to make us stronger for the future. Stay tuned for more or write in to share!