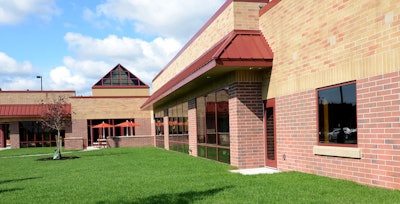 SOURCE: Echelon Masonry
The quaint village of Webster, New York, like many upstate municipalities, has wrestled with the challenge of offering quality services to its residents while facing a net decline in population and a diminished tax base for funding. While austerity measures were inevitable, Webster's town officials, displaying the region's trademark resiliency, have shown a willingness to explore innovative cost-saving measures, including a growing shift towards creative renovation versus ground-up new construction.
The long-awaited Webster Recreation Center was one such project—a challenging restoration awarded to Rochester's Passero Associates in 2015 following some lively community debate. By purchasing and restoring an existing facility, including 75 acres of grounds, the price tag for the project came in at $4.8 million, less than half the budget of a newly constructed center. Peter Wehner, Senior Project Architect and award-winning renovation expert at Passero, was able to transform a drab, dimly-lit space into a bright and welcoming community hub—a multi-purpose recreational complex now buzzing with activity.
For the exterior, Wehner's plan called for a brick aesthetic in a blend of earth tone shades. He chose a product that he had used on previous projects, Quik-Brik® from Echelon Masonry, a structural brick that outperforms traditional clay brick veneer in a number of areas including its ability to stand alone without additional structural support. This innovative product offers designers and contractors the durability of concrete masonry, the cost-efficiency of single wythe construction, and the rich, timeless appearance of brick.
Choosing from a variety of complementary shades, Wehner opted to mingle Promenade, Earth-tone and Beige. He notes, "The shades blended well and created a beautiful effect."
The one-piece, highly durable Quik-Brik structural masonry units were developed to save installation time and conserve materials—all at a better cost value than traditional brick. Wehner described the product as, "A really great material, which mimics traditional clay brick." He added, "No one who sees it can tell the difference."
The structure's earth-toned exterior was designed to allow for plenty of light to dominate the inside space. Wehner and his team completely refurbished the building's dark interior and wrapped it with over 13,000 square feet of additions. He noted, "The front entrance features a striking pyramid of glass that illuminates the foyer during the day and shines like a beacon at night. Large windows, exposed structural elements and the use of bright colors throughout the center add a creative feel to the space."
Along with its visual appeal and functionality, Wehner's design scheme included embedded efficiencies. "Sustainable features have been built in, including metal canopies to provide shade for the south-facing windows and reduce heating and cooling costs. Sprayed-in insulation with an R-Value that exceeds normal standards was used. NYSERDA rebates were earned for the light fixtures and appliances due to their high energy efficiency ratings."
Wehner's talent for revitalizing existing structures has been in high demand in recent years as New York municipalities grapple with declining populations, reduced public funds and labor shortages.
Kent Gardner, the chief economist at the Center for Governmental Research, explained, "The trend of people fleeing New York State over taxes and/or a better business climate has been going on for about two decades."
As a result, industry trends have shifted towards lower-maintenance materials that install quickly and easily. Oldcastle APG's Echelon Masonry brand has been at the forefront of that movement, offering sustainable, environmentally responsible products like Quik-Brik for this new era in construction.
About Quik-Brik:
When national retailers require a quality product that meets their time and budget constraints without sacrificing aesthetics or durability, they turn to Quik-Brik®. Architects and builders choose Quik-Brik time and time again for its first rate appearance and history of dependability. Quik-Brik gives the rich look of brick in one-step, cost effective solution.
About Echelon Masonry
Echelon Masonry is North America's largest manufacturer of the highest-quality masonry products for the architectural and masonry industries. As the consolidated masonry brand for Oldcastle APG, a CRH Company, Echelon offers the widest masonry portfolio in the industry, from trusted brands like Trenwyth to innovative product solutions like the InsulTech System, as well as the localized, one-on-one support needed to bring the most ambitious projects to life.
Since 2015, Echelon Masonry has been committed to supporting the time-honored tradition of masonry and advancing the craft for the 21st century and beyond.