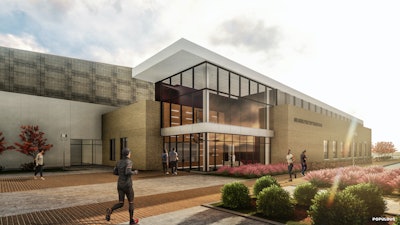 SOURCE: Populous
Texas A&M University celebrated the grand opening of the Anne S. & Henry B. "Hank" Paup '70 Pavilion, or Paup Pavilion, on January 22, 2021. Designed by Populous, this $7.8 million swimming and diving expansion is a renovation and addition on the north side of the Student Recreation Center and Natatorium. The Paup Pavilion creates a new home for the men's and women's swimming and diving programs and debuts the top dryland diving gym in the country.
As one of the most successful swim and dive programs in the NCAA, the Texas A&M men's and women's swimming and diving teams needed a facility that would both reflect and help continue their accolades. The dryland diving gym will not only be the finest and best-equipped in the NCAA community, it will also be one of the top dryland facilities in the U.S.
"The new dryland diving gym is better than I could have imagined," said Jay Lerew, Texas A&M's Head Diving Coach. "It will be a huge draw for student-athletes to come be a part of this program knowing they'll have the best coaches, the best teammates, and now the best equipment in the country. You can't find this anywhere else."
Populous worked with world-renowned diving coach Jay Lerew to design the facility to ensure it served the needs of the swim and dive team. The gym includes five different springboards, a large in-ground foam pit, an in-ground trampoline, a 17 ft. x 42 ft. gymnastics spring floor, and instant replay video cameras throughout so student-athletes can immediately review their form. These additions create a platform for success by allowing student-athletes to work out more effectively and efficiently.
"I knew from the moment I walked in the door it just felt right," said Jay Holmes, Texas A&M's Head Swimming & Diving Coach. "In the past, our team has shared support facilities all over campus. Beginning now, Texas A&M Swimming & Diving has a home, and it's called Paup Pavilion."
The new facility is named for its lead donors, Anne and Hank Paup. Hank swam at Texas A&M from 1966-1970, and together their vision has been a driving force from the beginning of the project.
With 11,300 SF of new-build, the expansion includes new team locker rooms and coaches locker rooms, a team lounge with nutrition area, a state-of-the-art dryland diving gym, athletic training room and hydrotherapy pools, coaches' offices and improvements to the visitor's locker rooms. The Paup Pavilion will not only greatly improve the functional operations for the staff, coaches and student-athletes, but it will also showcase the success of both programs and play a vital role in recruiting top athletes across the world.
"This new facility provides a recognizable face for Texas A&M's swimming and diving programs on campus, bringing their brand of excellence to the forefront," says Brooke Craig, Project Manager for Populous. "Additionally, the design is reflective of the massing and materials of the existing natatorium, but with a distinguished entry that's unique to the identity of Aggie Swimming & Diving."
Texas A&M Paup Pavilion is the latest Populous-designed collegiate expansion project delivering an unrivaled student-athlete experience in Division I athletics. This continues Populous' long-standing relationship with Texas A&M, having delivered Kyle Field, renovations to the Bright Football Complex, and more at the university. To learn more about our collegiate work, visit our website or contact us at info@populous.com.
About Populous
Populous is a global architecture and design firm that designs the places where people love to be together, like Yankee Stadium, the London Olympics, and the Super Bowl. Over the last 40 years, the firm has designed more than 3,000 projects worth $40 billion across emerging and established markets. Populous' comprehensive services include architecture, interior design, event planning and overlay, branded environments, wayfinding and graphics, planning and urban design, landscape architecture, aviation and transport design, hotels and hospitality, and sustainable design consulting. Populous has 14 offices on four continents with regional centers in Kansas City, London and Brisbane.