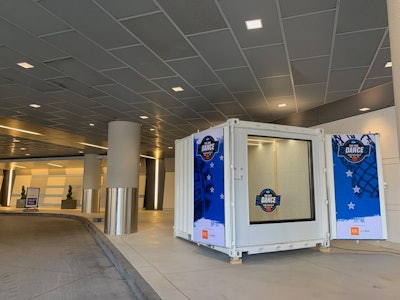 SOURCE: RJE Business Interiors
RJE BUSINESS INTERIORS AND OOTBOX PARTNER ON FULLY-FURNISHED, PORTABLE SPACES
INDIANAPOLIS, March 18, 2021
— For the first time, Indianapolis will welcome all 68 tournament basketball teams to a single metro area. Quite possibly one of the biggest challenges the Indianapolis sports community has ever faced, Indiana Sports Corp is working closely with Visit Indy and other partners to successfully host safe events amid COVID-19. The conglomerate tapped
RJE Business Interiors
—an integrated office space design firm—and
ootBox
—a leasable and customizable pod for anywhere you might need a temporary "third" space—to provide comfortable shelter for the volunteers who help run logistics at various transportation check-in stations.
Three ootBoxes, fully furnished by RJE, have been placed at the sanctioned hotels where participating teams, referees, journalists, broadcast production crews, support staff, and family members are staying. The boxes will serve as a resting place between shuttle shifts for the personnel who oversee transportation to and from the competition venues. Once the teams start to leave and consolidate hotels, Indiana Sports Corp will relocate one ootBox to a downtown activation space positioned within the three blocks of Georgia Street that connect the Indiana Convention Center with Bankers Life Fieldhouse. This pedestrian-friendly, European-inspired promenade originally debuted as the popular Super Bowl Village in February 2012.
"Indiana Sports Corp is excited to partner with ootBox and RJE Business Interiors to provide comfortable shelter for volunteers during March Madness," said Ryan Vaughn, president of Indiana Sports Corp. "Volunteers are the secret sauce to all of our events in Indy and we are grateful for ootBox's innovative pods for them to utilize."
This time of the year is no stranger to underdog upsets and Cinderella stories. Somewhat of an underdog itself, ootBox was launched in June of 2020 by a Columbus, Ohio-based attorney-turned-entrepreneur looking to reinvent expectations for a temporary space. After prototyping and raising seed funding, co-founders Robbie Friedman and Allison Zofan had lined up multiple leases for corporate customers right before the pandemic hit in the startup's early stages. Friedman explained, "Just as we were ready to launch the company, every single pre-order disappeared, and we suddenly faced unexpected COVID-related supply chain and shipping delay issues leaving us in a 'what now?' moment."
Determined to become a pandemic pivot success story, ootBox started to look beyond corporate deployments and was excited to discover and answer the need for the influx of remote workers with a leasable backyard "tiny office." Since then, ootBoxes have been used in various applications ranging from residential backyards, pop-up retail experiences, and expanded dining areas to pre-leasing sites, medical facility drive-thru labs, reimagined parking lots, and more.
"One of the cool things about ootBox is seeing the variety of creative use cases our customers come up with," said Zofan. "It is exciting that our next stop is to fulfill a logistical need for Indiana Sports Corp volunteers. This is yet another deployment that supports what we have identified as an unmet demand for portable space when and where it is needed. In addition to the temporary nature of an ootBox, the custom branding options provide a unique street presence."
RJE furnished each ootBox with several seating pieces and tables to make the spaces comfortable for the volunteers. "We are thrilled to have the opportunity to contribute to this incredible event in our city," said Denny Sponsel, CEO and owner of RJE Business Interiors. "It takes all of us to help this be a success."
About RJE Business Interiors
Established in 1991, RJE has spent the last 30 years creating inspiring spaces across the country. How do we do it? Through people who care. We work with clients of all sizes and industries – including healthcare, education, government, hospitality, and corporate. We have been told that we always Do What We Say We Will Do. Our expertise includes Workplace Consulting, Prefab Interior Construction, and Furniture. RJE is proud to provide unmatched customer service and high-quality furniture solutions to all our clients. Our core partnership with Knoll—an industry leader in modern workplace design—has flourished for 30 years. Our approach to interior construction is rooted in innovation, not invention. We strategically partner with Falkbuilt who combines proven construction methods with next-gen technology to build beautiful, high-performing + cost-effective environments. At RJE, philanthropy is a cornerstone of everything we do. We believe in giving back to our communities through volunteerism, donations, and in-kind support. For more information, please visit:
https://www.rjebusinessinteriors.com/
Officially launched in June 2020, ootBox is a spunky start-up company that is looking to reinvent expectations for the traditional temporary office space. Led by co-founders
Robbie Friedman and Allison Zofan, ootBox was first conceptualized by Robbie back in 2016. As a big law attorney-turned-entrepreneur and a new fa
ther,
he was unable to have certain work-related conversations at home or family-related discussions in his office. With no clear solution available, Robbie set out for an "out-of-the-box" answer to his privacy problems and discovered
a widely unmet demand for
movable, shareable workspaces that provide a third place (or an "escape" as he called it) for anyone, anywhere, and at any time.
Fully equipped and beautifully designed, ootBoxes are m
ade from 10-foot traditional shipping containers and
provide users with a comfortable, leasable space that is delivered straight to properties on-demand.
ootBoxes can be deployed anywhere for just about any application from residential backyards, parking lots, and coffee shops to university campuses, shopping centers, medical facilities, and other public spaces. For more information, visit:
https://www.getootbox.com/