Mason, OH – New custom waste and recycling receptacles from Witt Industries adorned with the Worcester Red Sox and Polar Park logos improve the environmental aesthetics while offering the functionality of waste management within Polar Park.
The Worcester Red Sox (nicknamed the WooSox) is a professional minor league baseball team based in Worcester, Massachusetts. Beginning play in 2021, the team is the Triple-A affiliate of the Boston Red Sox, succeeding the Pawtucket Red Sox. The team competes in the Triple-A East league and plays home games at the newly constructed Polar Park in Worcester. Opened for the 2021 Triple-A season, Polar Park has a seating capacity of 9,508 people.
"Our branded waste receptacles fit perfectly into Polar Park's aesthetics," said Worcester Red Sox, vice president, ballpark operations. "Their functionality for WooSox game days and Polar Park events that we host is exceptional."
Combining design with functionality, these custom containers feature the WooSox, and Polar Park logo are powder coated to match the team's color scheme. The receptacles are enhanced with protective coated bases to add durability and protect the stadium concrete.
"Witt Custom Logo is the leader in branded receptacles," commented John Winfield, Witt Industries, national sales manager. "We're honored that the Worchester Red Sox selected our custom logo waste and recycling receptacles for Polar Park. Witt is proud to contribute to the look and feel of game days and other community events hosted at the ballpark."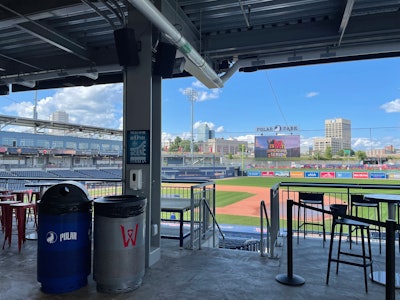 Witt Industries, a manufacturer of a full range of metal waste and recycling receptacles for indoor or outdoor environments, was founded in Cincinnati, Ohio over 100 years ago. They supply custom logo receptacles to numerous high schools, collegiate, and professional sports facilities around the US.
Witt Industries is a premier manufacturer of durable indoor and outdoor trash receptacles, recycling containers, and site furnishings made of high-grade quality materials. Witt Industries' extensive product line offers a variety of custom logo options for various venues. For additional information, please visit wittcustom.com, email [email protected] or call (513) 923-5641.