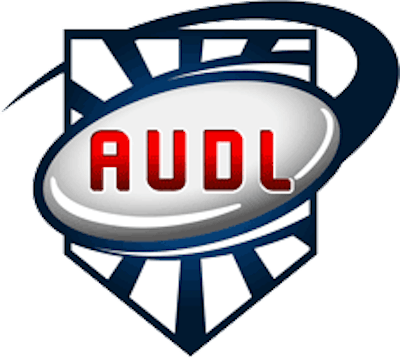 The American Ultimate Disc League 2021 League Year Saw Tremendous Growth Over Previous Year
LOS GATOS, CA (November 9, 2021) - The American Ultimate Disc League (AUDL) ended the 2021 league season with the championship weekend taking place at Audi Field in Washington, D.C. While the entire sports industry faced a tough 2021 season after a global pandemic, the AUDL saw a significant increase in everything from social engagement to in-person attendance at games.
Increased online presence
The AUDL saw significant increases in both engagements with their social platforms as well as viewership on their streaming AUDL.tv service. There was a 72% increase in social impressions totaling approximately 102 million. The streaming service also saw a 106% increase in subscribers compared to 2019. The league was also featured in nine SportsCenter Top 10 clips throughout the 2021 season.
Key partnerships and new ideas
For the 2021 season, the AUDL signed a 1-year agreement with DraftKings as an exclusive gaming partner launching Free-to-Play pools and exclusive streams of Friday "game of the week" matches. They also signed a 5-year, $3 million partnership with LSports Data Ltd as their exclusive data distribution and developer of betting products partner for end-users that utilize DraftKings, FanDuel, Bet365 and more.
The AUDL also launched its first collection of non-fungible tokens (NFTs). All 70 video-based NFTs, representing some of the most iconic plays by legendary AUDL stars, were sold during the 2021.
Lastly, total-in person attendance for the entire 2021 AUDL season saw a 31% increase over the 2019 season.
What's to come in 2022
Coming off such a successful 2021 season, the AUDL is already gearing up for the 2022 season. For the upcoming season, the league expects to continue to be featured on the SportsCenter Top10 due to the unique and amazing plays made on the field. With the popularity of the sport continuing to grow and expand, the league also expects to see additional growth at in-person games, more subscribers to AUDL.tv, greater accessibility on linear broadcast channels, new fans participating in betting opportunities, and hopefully the first-ever, console-based Ultimate videogame.
About AUDL and Professional Ultimate
The American Ultimate Disc League (AUDL) was founded in 2012 to introduce and showcase our talented athletes and precision play to a global audience. Ultimate is a fast, flowing and highly athletic low-contact sport that is played by advancing a disc down a field to score by passing into the end zone. Players cannot run with the disc, and play continues until one team scores.
With pinpoint passing and the unique flight of the disc, each game generates many exciting catches and defensive plays that frequently appear on EPSN's Sports Center Top 10, Fox Sports, Bleacher Report and other leading sports shows.
The league has 25 teams playing in the US and Canada. Each team competes in a 12-game regular season schedule, with top teams entering a playoff round and divisional winners advancing to a final four style Championship Weekend. Our audience enjoys our exciting, affordable, family-friendly events, devour our highlights and video features on social media and watch our full-length games on TV or streamed online. www.theaudl.com.