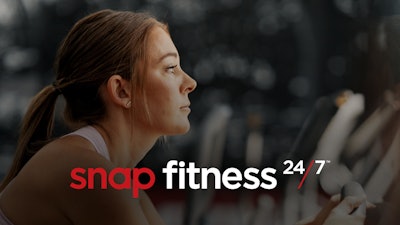 CHANHASSEN, Minn. – Snap Fitness announced today a collaboration with the National Alliance on Mental Illness (NAMI) to support the organization's advocacy for mental health and access to care, as well as promoting local NAMIWalks and fundraising opportunities to its members and communities. As part of the new collaboration, Snap Fitness will empower NAMI's mission to provide advocacy, education, support and public awareness so that all individuals and families affected by mental illness can build better lives.
"Supporting an organization like NAMI was a logical choice for us. It has been proven that there is a strong correlation between physical and mental health, which is aligned with our mission focusing on how exercise makes you feel not just how it makes you look," said Rose Minar, Chief Marketing Officer of Lift Brands, parent brand of Snap Fitness. "Snap Fitness believes that fitness should make you feel great, and we're excited to get behind and support such an important cause like NAMI and make a greater positive impact on individuals' mental health."
NAMIWalks are events where NAMI's more than 600 local affiliates and 49 state organizations are based to show solidarity, magnify mental health awareness, build the ever-growing NAMI community and continue to raise essential funds for free, top-rated mental health programs. Individual Snap Fitness gyms will support NAMIWalks happening in their local areas and invite members to participate in the walks. The first NAMIWalks of the year began this month and will continue throughout NAMI's local market affiliates until November 2022.
Globally, Snap Fitness has locations in more than 20 countries, with over 640 units in the United States and Canada, 85 units in the United Kingdom, and 300 units in Asia Pacific. The brand takes pride in creating an inclusive, empathetic and supportive approach to fitness.
For more information about the Snap Fitness franchise opportunity, please visit: https://www.snapfitness.com/us/why-franchise-with-snap-fitness/
For more information about NAMI, please visit: https://www.nami.org/Home. If you'd like to make a donation, please visit: https://donate.nami.org/fundraiser/3894541
About Snap Fitness
Snap Fitness helps people create positive lifestyle habits that make them feel fantastic. Founded in 2003, our 24/7 fitness concept boasts over 1,000 clubs across the globe and offers the most inclusive, empathetic and supportive experience regardless of level. Snap Fitness makes fitting in fitness simple with a welcoming atmosphere, easy-to-use equipment, the latest technology innovations—including the Snap App—and clear guidance.
Visit www.snapfitness.com or follow us on Facebook, Instagram or LinkedIn. Snap Fitness—#ForTheFeeling.