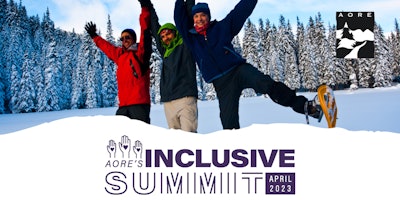 As a leader in the industry, the Association of Outdoor Recreation and Education (AORE) works to provide a wider understanding of exclusionary practices in outdoor education and recreation, while teaching attendees how they can actively work to make change within the industry.
AORE welcomes diversity and aims to be accessible and inclusive and aims to remove barriers to participation. In 2020 as an association we recognized our position as a change-leaders by helping our members, who are predominantly in leadership roles, recognize how they can become active allies and change agents. Through this realization we created the virtual Inclusive Summit.
We are excited to bring the Inclusive Summit back for a fourth time! Following formats of previous years, our three day event will have a different theme each day. Starting April 11 we will focus on recreating in winter. We are excited to share industry leaders joining AORE for the 2023 Inclusive Summit. The following speakers will be speaking April 11, starting with a kick off introduction at 11 am ET.
● 11:10 am ET | Adapt and Destroy, presented by Roy Tuscany, CEO/Founder of High Fives Foundation. Roy will kick off the day with his thought provoking session and share a new way to break through barriers with attendees.
● 12:00 pm ET | Case Study: Outdoor Inclusion Coalition & Community Centric Winter Sports Programming, presented by Marcus Shoffner, President & CEO of Outdoor Inclusion Coalition. Marcus will share the impact of the Outdoor Inclusion Coalition, along with program design and outcomes related to a community-designed snow sports program.
● 1:00 pm ET | Stress and Anxiety - Support to help build resiliency, presented by Paul Dreyer, Chief of Programs Strategy and Outdoor Education Community Lead at Responder Alliance. From Paul you'll learn to build resiliency within yourself, the principles of Psychological First Aid, and how you can use it within your world.
● 2:00 pm ET | Cultural Bias in Risk Management Decision Making, presented by Jason D. Martin, Executive Director of American Alpine Institute. Jason will discuss how complicated biases impact us in dangerous situations.
● 3:00 pm ET | Wintersports Industry Inclusivity - Elite, Elusive or Energetically Inclusive? Presented by Kenji Haroutunian, Founder & Director, Kenji Consults along with Brad Werntz, of New Normal Consulting, LLC, will share how young up-and-coming leaders can navigate career choices.
● 4:00 pm ET | Bridging the Belonging Gap, presented by Claire Smallwood, Executive Director of SheJumps. Claire will share how we can all remove barriers for women and girls in the outdoors.
Be sure to join us as we wrap up the day with our Networking Breakout Sessions, featuring facilitators from every corner of the industry. We will break into small groups to chat about questions facing the industry, including 'Our shrinking snows - what is the future of winter recreation in a changing climate?' lead by Hilary Eisen of Winter Wildlands Alliance.
- -
We are also excited to have The Wilderness Society (TWS) facilitating sessions on Wednesday, April 12 and Rachel Hailey from DEI Outdoors facilitate workshops on Thursday, April 13. TWS will share their expertise and public lands curriculum with attendees. Rachel will engage with attendees in two workshops on guidance on workplace culture and human resources.
If you guide, train or encourage people to get outdoors, this Summit is designed for YOU! We encourage everyone to register to help learn more about how we can all be more inclusive in our practices when recreating in the great outdoors.
Hosted online for ease and accessibility, we encourage you to register and treat this as a typical professional development opportunity by prioritizing the time for participation and by reducing distractions.
Each day will begin at 11am ET and close with Networking Breakout Sessions. Attendees can attend all three days or register for a single day. Rates start at $79 for AORE members.
Get your entire organization involved and work to make change within the industry with our group rates. If you are interested to learn more, please contact Jenny at nationaloffice@aore.org.
Can't attend live? Registration includes access to recordings for two weeks after the event!
Learn more about the upcoming event, see the event schedule and secure your spot by visiting aore.org/inclusive_summit.