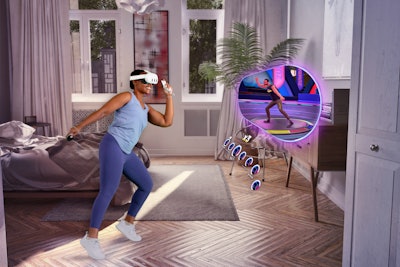 November 2, 2023 — LONDON & NEW YORK — BUSINESS WIRE — FitXR, the leading VR workout platform with the largest offering of fitness classes, officially launched its highly anticipated Zumba Studio. Fusing the vibrant world of Zumba with the immersive capabilities of VR and MR, this new studio promises to bring a whole new dimension to dance fitness.
Community is at the core of the FitXR experience, which is exemplified with the Zumba Studio. With a commitment to inclusivity, the platform offers four distinct levels to cater to dancers of all experiences – Beginner, Intermediate, Advanced, and Expert. Led by dance instructors who embody energy, empowerment, and positivity, users can expect a fitness experience like no other.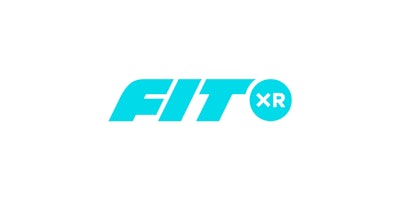 "Bringing the energy of Zumba to our platform was an exciting challenge for the FitXR team," FitXR's Director of Content Strategy & Programming, Kelly Cosentino said. "Our number one goal was to introduce features and bring on instructors that cultivate a supportive atmosphere, enabling users to feel confident and motivated."
In the studio, instructors leverage the unique capabilities of VR and MR to provide visual and voice guidance that fosters a supportive environment. The movement preview system displays animated sequences, empowering users to anticipate and conquer each step with confidence.
FitXR's exceptional team of Zumba instructors, each bringing their own unique flair and expertise to the virtual dance floor, is below:
Dahrio Wonder: With over a decade of experience as a Zumba artist and international presenter, Dahrio is a seasoned pro in the dance world. He has shared the stage with legends like Britney Spears and Celia Cruz and brings unparalleled energy and experience to every session.
Jeimy Bueno: Jeimy is a fitness powerhouse and has lit up global stages as a Zumba presenter. As a licensed physical therapist, she brings a holistic approach to fitness and her classes are all about empowerment, inclusivity, kindness, and helping you shine!
Sarah Eika Burke: Sarah is a hip hop instructor, and has been training dance students for over 12 years. She is set to get hearts racing with her high-energy FitXR dance classes and her infectious energy and dynamic moves promise a workout that's both fun and effective.
With 32 classes planned for the year, FitXR's Zumba Studio will come in quarterly drops, starting with eight classes on November 2nd. This ensures that users can scale up, whether they're beginners looking to build their skills or seasoned dancers perfecting their scores.
For more information about FitXR and the Zumba Studio, visit https://fitxr.com/. For press inquiries or any additional information, please contact [email protected].
About Zumba Fitness LLC
Founded in 2001, Zumba is the largest branded dance fitness company in the world – reporting more than 15 million weekly participants, in 200,000 locations, across 185 countries. Zumba® blends world rhythms with easy-to-follow choreography for an effective workout that empowers participants to become their best selves - mind, body and soul. In addition to its original Zumba program, the company offers 10 Zumba specialty classes – from aquatic-based to those specifically designed for active older adults and children. In 2016, Zumba launched its first non-dance, HIIT workout STRONG Nation®, where music acts as the main motivator. In 2023, Zumba launched CIRCL Mobility™, a revolutionary new program designed to unlock the body's full potential through flexibility, breathwork, and mobility exercises. The Zumba® lifestyle is rounded out by the company's many consumer product offerings, including the Zumba 6 Week Transformation Program, video games, original music, activewear and footwear, and interactive Fitness-Concert™ events. For more information about Zumba's programs and products, or to find a live class, visit zumba.com. Follow us on TikTok, Instagram and Facebook.
About FitXR
FitXR merges immersive VR with total body workouts designed by top fitness experts. Dedicated to making fitness more fun and accessible for everyone, FitXR offers classes within six distinct workout studios - Box, Dance, HIIT, Sculpt, Combat and now, Zumba. FitXR provides a truly engaging, multiplayer experience along with constantly refreshed classes, environments and music. FitXR is available on Meta Quest and Pico XR headsets. For more information, head to FitXR.com and follow us on TikTok, Instagram, Facebook and YouTube.