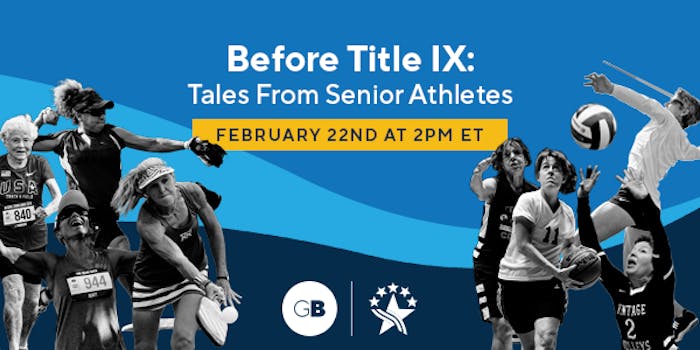 This year is the 50th anniversary of the passage of Title IX, which leveled the playing field to allow girls and women equal access to organized sports. This will be a popular theme for media stories in 2022. The National Senior Games Association believes that there are more women who are still active in our Games that lived through that era than any other organization or event. They are eager to talk about what it was like and how they feel to be athletes today.  
What: Before Title IX: Tales from Senior Athletes presented by NSGA Communications and Growing Bolder
When: Tuesday, Feb. 22, 2 pm Eastern Time 
How to View: Livestream the program on National Senior Games' Facebook (@SeniorGames1) and YouTube (@NationalSeniorGames), as well as Growing Bolder's Facebook (@GrowingBolder) and YouTube (@GrowingBolder). The program will be archived for later viewing.
Featured Athletes:
Katherine Switzer, 75 – #Fearless 261 running legend who broke the marathon gender barrier
Leurene Hildenbrand, 90 – Denied sports as youth, has played multiple sports in Senior Games
Alice Tym, 79 – Former #13 tennis player and Hall of Fame college tennis coach
DeEtte Sauer, 80 – Swimmer who lost 100 lbs. and found an elite athlete within
Jo Dill, 76 – Basketball player and Maine Senior Games Coordinator
What's Next: NSGA will send a survey to female athletes from the Title IX era to share their stories. We will select the best and host another program this summer to commemorate the anniversary.
The 2022 National Senior Games presented by Humana will be May 10-23 in Greater Fort Lauderdale. More than 11,000 athletes age 50+ have already registered.