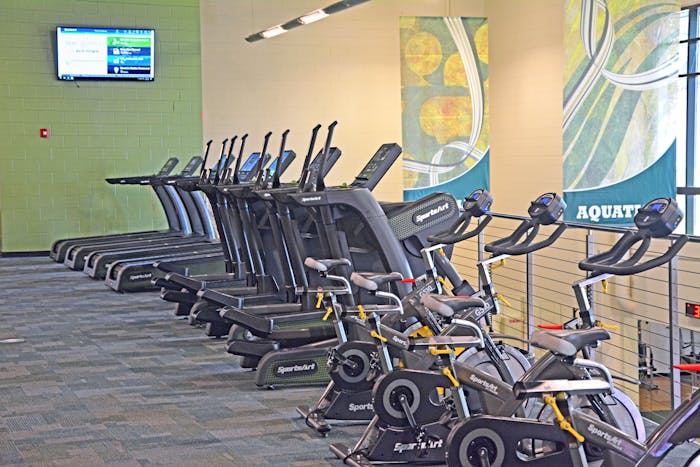 Seattle, WA (February 11, 2022) - SportsArt, a leader in sustainable fitness and green solutions for over 40 years, has been selected by the University of South Florida (USF) and has installed several pieces of ECO-POWR™ equipment on campus to reduce energy costs in its recreation center. The new equipment from SportsArt converts up to 74 percent of human energy into usable electricity, meaning one hour of working out on an ECO-POWR™ machine can produce enough electricity to power a desktop computer for over two hours. This green fitness installation is the first of its kind at any college or university in Florida.
Installing energy-generation cardio equipment can be a natural fit for a variety of initiatives college and university campuses want to undertake. This project contributes to USF's long-standing commitment to sustainability and, specifically, the reduction of energy consumption to lower greenhouse gas emissions. 
"Recent studies show 47 percent of recreation facilities are accountable for annual building energy. As energy costs continue to rise, installing cardio equipment engineered to offset consumption was a natural fit for us to undertake," said Jay Souza, UFS's director of Recreation and Wellness on the Tampa campus. "SportsArt's ECO-POWR™ line enables us to also provide our students with equipment that is both easy to use and offers the latest in technology."
This initiative is supported by the university's Student Green Energy Fund, which facilitates sustainable efforts throughout campus. With the help of the fund, SportsArt installed 12 pieces of equipment: four Verde treadmills, four G876 ellipticals and four G510 indoor cycles as well as SA WELL+™, a digital leaderboard that displays how much electricity students generate on the ECO-POWR™ equipment.
"We're constantly working on ways to offer our sustainability, durability and technology to new markets, such as universities, and provide them with more opportunities to produce energy," said Ruben Mejia, executive vice president, SportsArt Americas. "We're proud to help colleges and universities align everyday operations with the sustainability goals, mandates, and mindset of today's green-minded students." 
Going green is a process that everyone can take pride in. "As sustainability continues to grow in importance, SportsArt's patented ECO-POWR™ technology has made it possible for USF to bring greener solutions to campus. We're excited to provide innovative applications that give colleges and universities more opportunities to attract, engage and serve students, faculty and staff," added Mejia. 
To learn more about SportsArt or its ECO-POWR™ line of energy-producing fitness equipment visit gosportsart.com. 
About SportsArt
With more than 40 years of innovative design and manufacturing excellence, SportsArt continues to lead the fitness industry through revolutionary sustainable solutions. Along with the world's only line of energy-generating cardio equipment, ECO-POWR™, SportsArt also offers a full range of high-quality cardio, strength and rehabilitation equipment for the fitness, medical and residential markets. Known for its dedication to service, durability and cutting-edge technologies, SportsArt is one of the largest single-brand manufacturers in the world with over 500,000 square feet of state-of-the-art space. The company designs, manufactures and tests all equipment in-house before it is sold in over 70 countries worldwide. For more information visit gosportsart.com.