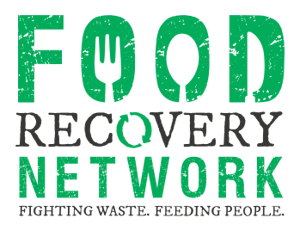 Food Recovery Network donated meat, seafood, dairy, produce and condiments to Westside Food Bank and Greater West Hollywood Food Coalition, thanks to chefs from Bullseye Event Group and Operation BBQ Relief
11.2 percent of LA County's population experience food insecurity; 36.4 percent of those food-insecure individuals are children
WHAT:
Food Recovery Network (FRN) recovered 1,905 pounds of food from the Players Tailgate during the Super Bowl. High-quality meat, seafood, dairy and produce products, as well as condiments, were packaged and delivered to Westside Food Bank and Hollywood Food Coalition – two nonprofits providing food for local communities experiencing food insecurity.The 2022 Players Tailgate was an immersive culinary experience that boasted a 50,000 square foot VIP tailgate with food stations, hosted by celebrity chef Guy Fieri. FRN was invited by long-time partners, Operation BBQ Relief, to recover surplus food. Ticket proceeds from the Players Tailgate supported long-time charitable partners Operation BBQ Relief and the Irie Foundation.
WHY:
11.2 percent of LA County's population, or 1,135,710 individuals, experience food insecurity on a regular basis. 36.4 percent of food-insecure individuals are children.The United States Department of Agriculture defines food insecurity at the household level and is represented by the economic and social condition of limited or uncertain access to adequate food. Food Recovery Network works across the country to provide events like the Players Tailgate with a safe and effective food recovery program. Such programs ensure that perfectly good food is delivered to nonprofits feeding our neighbors in need instead of going into a landfill. To date, in LA County, FRN has recovered 217,643 pounds of food, which translates to 181,369 meals for those experiencing food insecurity. FRN chapters at 44 colleges and universities in California have recovered and donated 616,874 pounds of surplus food, the equivalent of 514,062 meals, since 2012.

"Food is a human right. On Sunday, our volunteers ensured that thousands of pounds of food, that would otherwise go to waste, went to community members who experience hunger on a daily basis," said Regina Anderson, Executive Director of Food Recovery Network. "Events like the Players Tailgate are a powerful reminder that we have so many opportunities to work together and take action that will help our neighbors in a truly tangible way.""Operation BBQ Relief is proud to team up with Bullseye Entertainment Group and Food Recovery Network to feed communities in need in southern California! It is a victory for us off the field when we can all join efforts to address the fight on hunger," said Stan Hays, CEO and Co-Founder of Operation BBQ Relief.
About Food Recovery Network 
Food Recovery Network (FRN) is a national 501(c)3 nonprofit that unites 4,000 college students, dining providers, food suppliers, and local businesses in the fight against climate change and hunger by recovering perishable food that would otherwise go to waste and donating it to local nonprofits who feed people experiencing hunger. At a systems-change level, FRN seeks to recover surplus food to feed everyone who is hungry in the United States.Founded in 2011, FRN has evolved from a few students recovering surplus food at college campus dining facilities during the school year to more than 4,000 college students, dining providers, food suppliers, and small businesses across the U.S. working together year-round to recover food from farm fields, local restaurants, event venues, and college campuses and redistribute it to over 290 hunger-fighting nonprofit partners that provide food to the 42 million people currently experiencing hunger in the U.S.FRN's programs are on 193 campuses in 46 states and the District of Columbia, and has recovered and donated more than 5.3 million pounds of food to date – the equivalent 4.4 million meals donated to individuals and families experiencing hunger.
For more information about Food Recovery Network, visit www.foodrecoverynetwork.org and follow us on social media. Facebook: @FoodRecoveryNetwork | Twitter: @FoodRecovery | Instagram: @FoodRecovery
About Operation BBQ Relief:
Operation BBQ Relief is a 501(c)(3) nonprofit organization that supports communities following natural disasters with hot barbecue meals to those in need and on the front lines. After the devastating tornado in Joplin, Mo. in May 2011, competitive pitmasters from eight different states answered the call to feed displaced families and first responders and served over 120,000 meals over 13 days. This experience was the catalyst that started what Operation BBQ Relief is today. With the help of more than 14,000 volunteers, Operation BBQ Relief has provided over 9 million meals throughout the United States. In response to the COVID-19 pandemic, the organization has provided over four million meals to first responders, medical workers, veterans, families and organizations affected by the pandemic. In 2017, Stan Hays, CEO and Co-Founder was recognized as one of the "CNN Heroes" for his work with Operation BBQ Relief. For more information, visit obr.org or follow us on Twitter, Facebook, and Instagram at @opbbqrelief