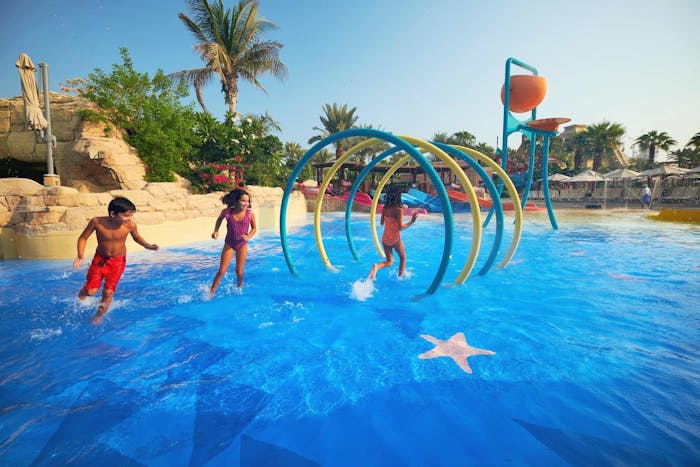 Courtesy of Life Floor
Minneapolis, Minn. — March 2, 2022 — Life Floor, an innovative aquatic safety surfacing manufacturer, and Waterplay, the industry's leading aquatic play manufacturer, today announce a strategic partnership to bring aquatic surfacing to the global splash pad market. Together, the companies are committed to making aquatic recreation completely immersive and connecting the world through play and social experiences.  

"We're thrilled to bring Life Floor to our customers. It just makes sense for our companies to team up and create a playful

experience together. Life Floor is really stunning in the aquatic space and a perfect complement to our products and, of course, for customers looking for strong theming. It's also very fun in that kids play differently on a Life Floor aquatic surface, they're able to crawl and roll without restriction, or make a game of jumping from tile to tile. With NSF certification, our partners and customers can trust they are investing in a surface that is both durable and safe." — Kerrin Smith, Waterplay Vice President
Waterplay's commitment to bringing play and social experience to communities around the planet is evident in their inclusive designs, range of splash features, and global reach. The company is passionate about making play accessible for every ability with thousands of installations and a 35-year track record of happy customers. 
"We really couldn't be happier to partner with Waterplay. They're a leading manufacturer in splash pad design with a team who is incredibly passionate about play. Offering our products together brings the best of both worlds together for aquatic users—unique, imaginative play solutions paired with beautiful, safe surfacing." — Gwen Ruehle, Life Floor Vice President, Business Development
The Waterplay and Life Floor partnership includes the global splash pad market. Exclusivity will be given to Waterplay for all projects specified solely with Waterplay equipment and Life Floor products. Life Floor is committed to providing the best aquatic surfacing for all spray park end customers and will continue working directly with customers who choose alternative equipment providers. Life Floor will also continue working directly with spray feature manufacturers and their Registered Aquatic Partners where Waterplay and Life Floor are not exclusively specified.

About Life Floor 
Life Floor manufactures Life Floor tiles, a foam-rubber flooring system designed for use in wet areas with barefoot traffic. Created as an alternative to concrete and other conventional materials, Life Floor is the only safety surface specifically designed and engineered to perform in aquatic environments. Life Floor combines award-winning safety with unparalleled design capabilities, delivered by an expert team committed to a world-class experience for everyone who interacts with our products. To learn more, visit lifefloor.com.
About Waterplay 
Waterplay designs and manufactures play solutions for indoor and outdoor aquatic play spaces. Freestanding play features, playable fountains, elevated structures and water management solutions—we specialize in inclusive, high value, quality products that last. With aquatic play, water management, seating, shade, surfacing and toilet facility solutions, there's no aquatic play project we can't handle. Contact us today to start working with our experienced support teams positioned to help you every step of the way. building a splash pad is easy with Waterplay. Visit waterplay.com to learn more.